The Best Free Fonts to Use on Your Website
October 17, 2023

Stunning Gradient Website Design Showcase
October 18, 2023
If you want your website to reach users in foreign countries, you will need to enlist the aid of a WordPress translation plugin. When you are creating a multilingual website, you want to get the best translation possible. Two of the most popular, multilingual WordPress plugins today are Polylang vs WPML, and we are going to compare and explain them for you.
WordPress was originally developed to be a blogging tool, and not really a full CMS solution. This is one of the reasons why it does not support multi-language. Many businesses, especially the ones that are outside the United States, generally need their websites to include at least two languages. According to WordPress.com, more than 30% of the content that they host is written in languages other than English.
If you want to make the right decision on which multi-language tool you should use, you will first need to know what your options are. So, let us help explain more about Polylang and WPML.
Create A Multilingual WordPress By Using A Plugin

Many website owners have a mix of manual translation and automatic translation. The manual options are usually done using translators, while the automated translations are done using a plugin that gets the files done.
One disadvantage of the manual option is that it can take a long time in order to complete translation,while the automation plugins can make translation faster, but may leave you with some mistranslated phrases that need to be corrected.
While not ideal, both situations will likely occur if you choose to use WordPress multisite, multilingual channels. Making sure that translations are done correctly is very important for both the user and the owner.
What is Polylang?
Polylang is one of the most popular choices when users want to manage their content in multiple languages on their WordPress website. You can use the plugin to translate posts, menus, pages, and so on.The Polylang plugin, together with WPML, takes original posts and creates a duplicate version of it that contains the manual translation of the original.
What this multi-language WordPress plugin does is download the WordPress language package and update it, so no matter what language option you have, you can be sure that you will have the right language pack with the Polylang.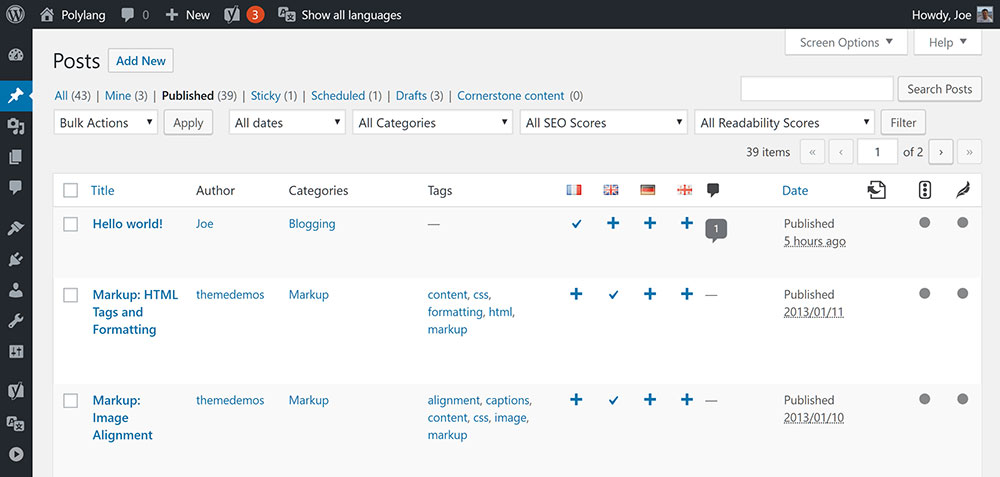 Currently, Polylang it is used by more than 400,000 users,which says a lot about its quality, accessibility, and dependability. As the plugin doesn't have any other extra tables, you shouldn't encounter any problems when using it. Since Polylang doesn't use a lot of memory, you will also find that it is compatible with many cache plugins as well.
What is WPML?
WPML is one of the mostwell-known WordPress translation plugins that you can get today. While it is quite an old update,this doesn't mean that WPML doesn't still have support and updates. There are some license options to choose from if you want to create a multi-language version of store sites, for example.This plugin canbe used to display almost any aspect of your WordPress website in different languages, from posts, to pages, and so on.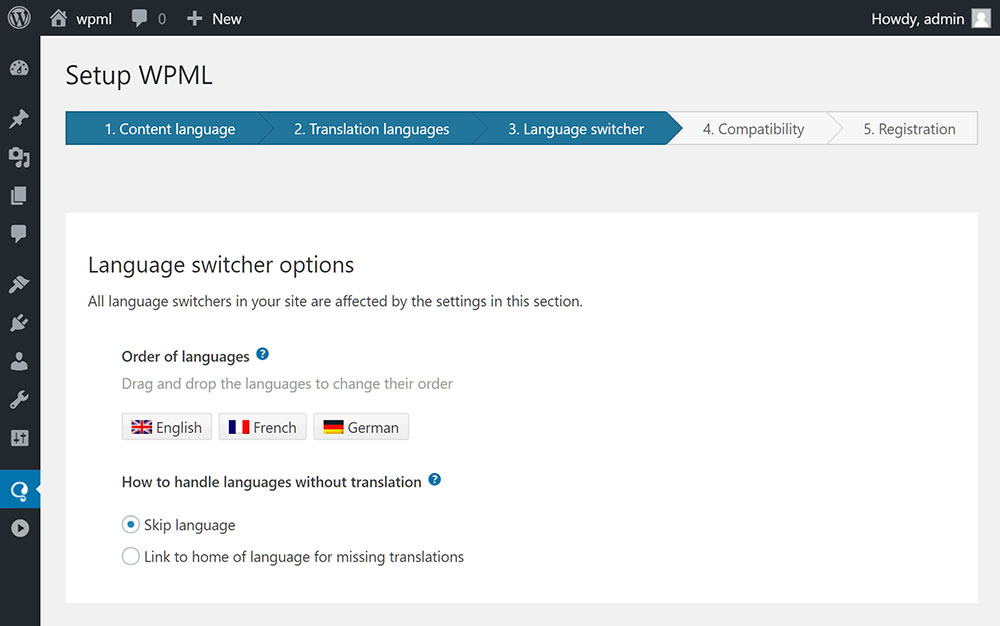 WPML can also be used in order to display a multilingual version of plugin content, the WordPress admin area, widgets, and much more. Depending on the licensing you choose, you can also create and manage multilingual versions of your WooCommerce-powered store.
Polylang vs WPML: How to translate your content
Polylang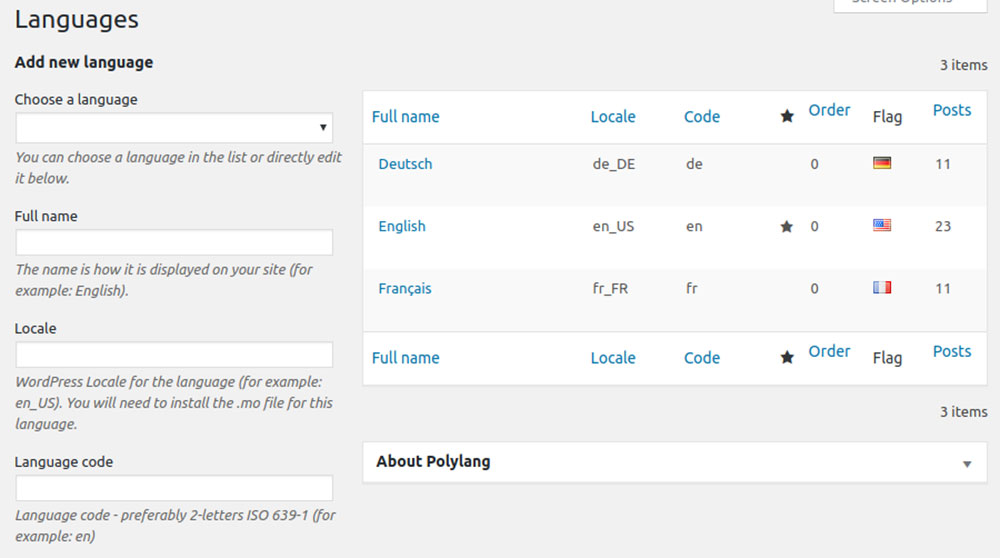 In terms of user-friendly options, many have found that both Polylang and WPML are a bit challenging to use. With Polylang, you might have some challenges with tracking the different language version of your content. Compared to WPML, the only real option is to check the Languages column that the plugins add to the Posts and Pages screens in your admin dashboard.
Polylang helps you integrate a cloud-based translation management system ,known as Lingotek, which gives free machine translation. The disadvantage in these situations is that you will need to install this third-party plugin, Lingotek,and also set up an account with them.
WPML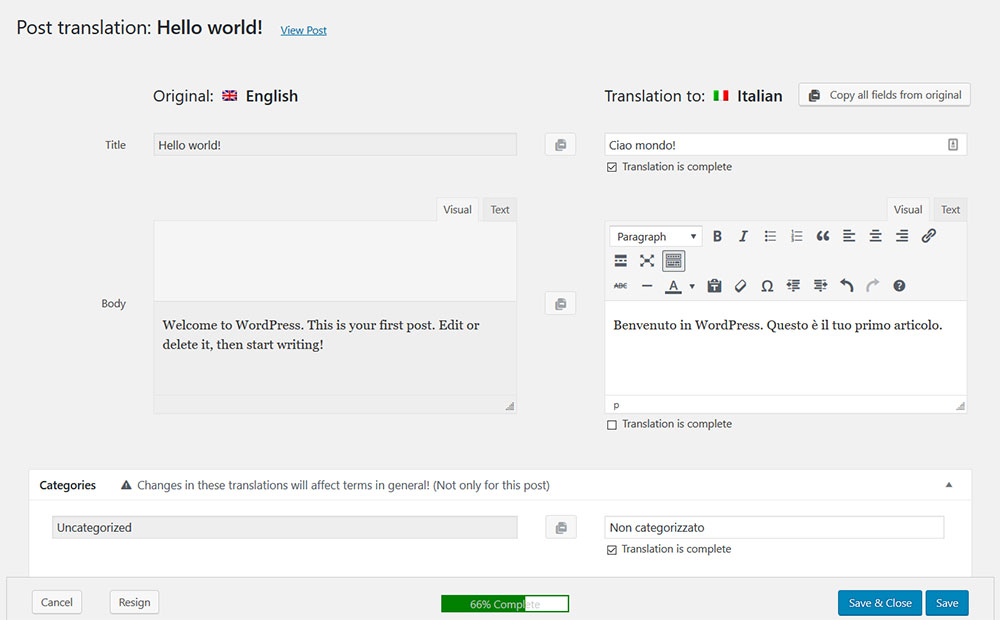 The WPML plugin has a cool search tool that helps you find the content that you want to check and translate. Using this tool, you will also be able to filter content according to its translation status and find certain document in specific languages.
Translation statuses, such as "complete" and "in progress" will allow you to quickly track what content needs to be changed. You can manually translate your content depending on your preference.This can all be done by yourself by translating the content from the WordPress dashboard. You can also assign users the role of Translator, and they will be able to start from there.
How much of your content do you need to translate?
Polylang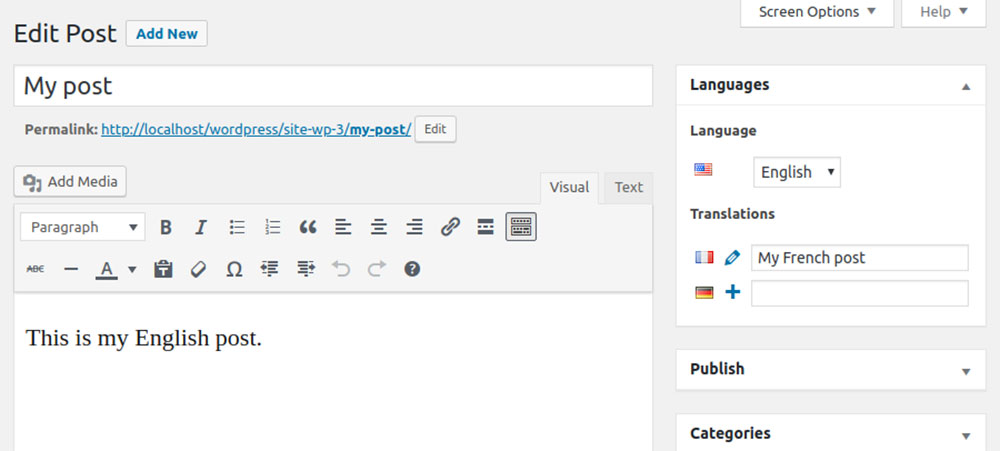 The Polylang plugin helps you translate your posts, pages, menus, widgets, and a lot more. It also has a great support for creating multilingual e-commerce stores.
WPML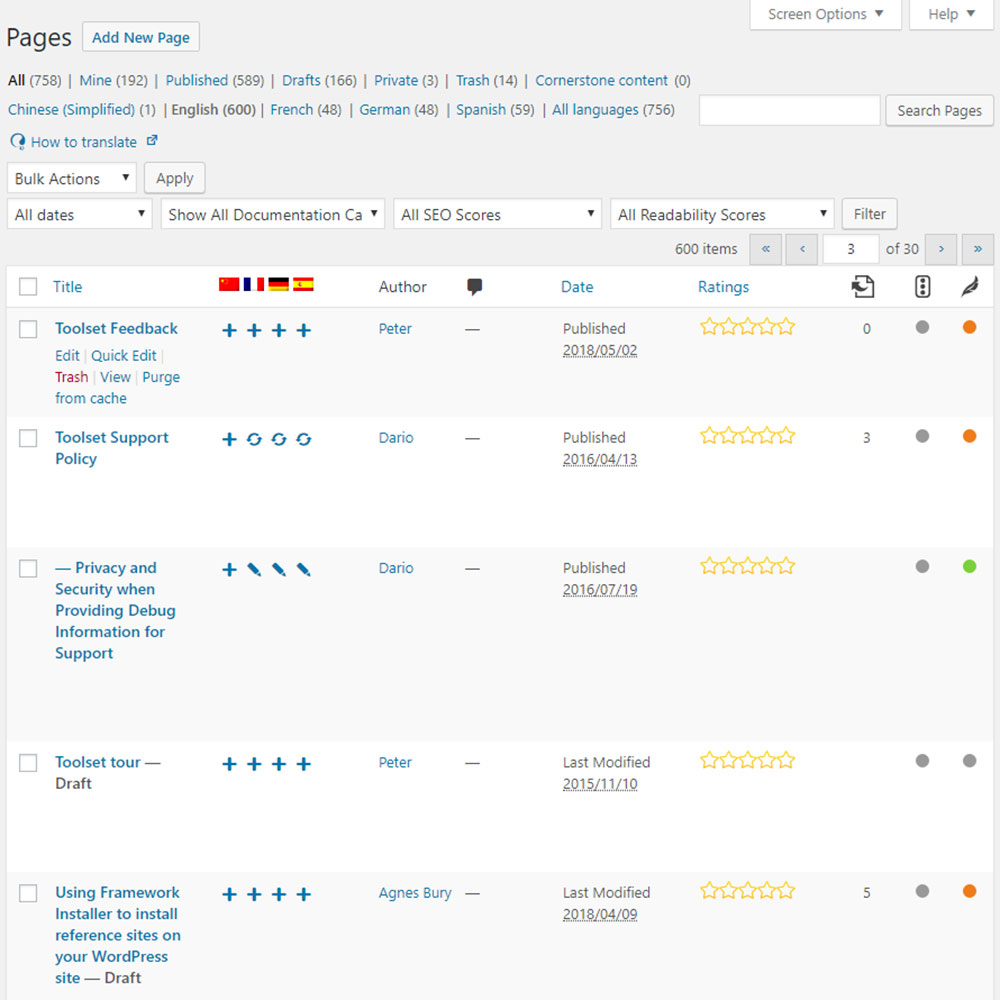 With WPML, you will be able to create multi-language websites without worrying about disrupting any features or functionality. You can even use the WPML tool to translate all areas of your site, from the page content, and even the theme that you are using for your WordPress site.
Documentation and Support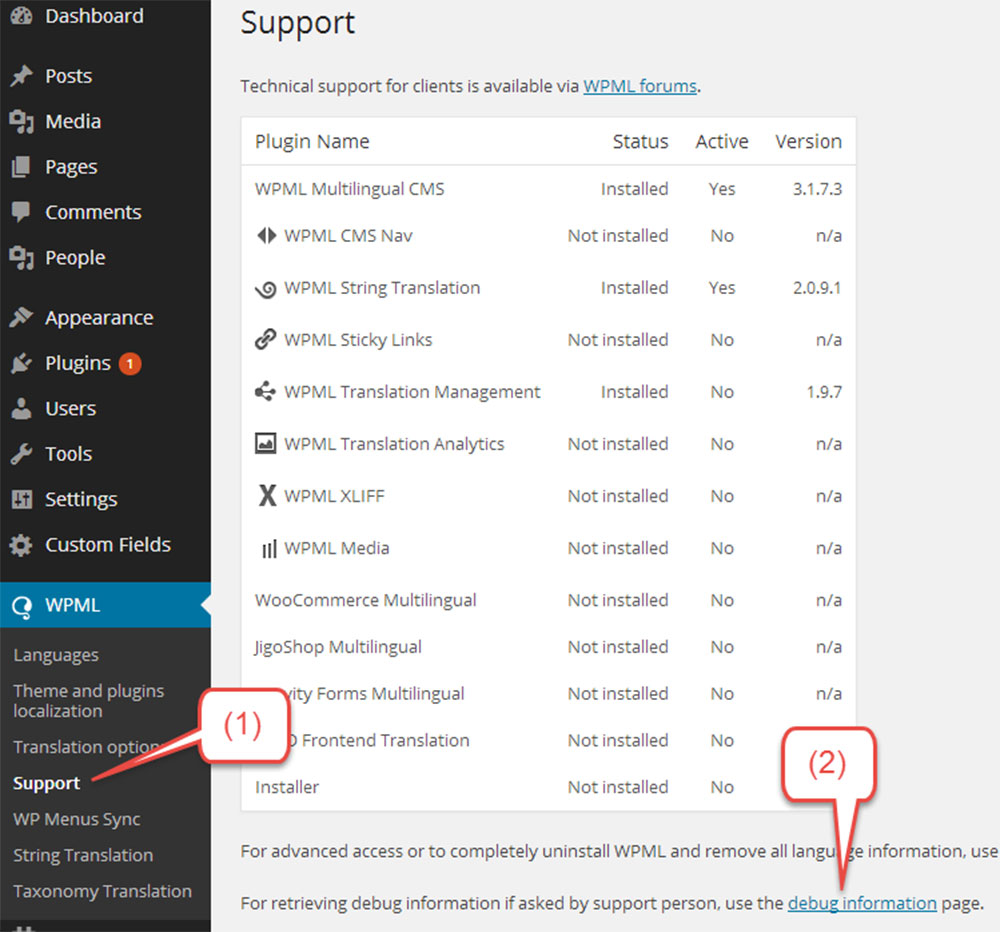 A great advantage to choosing a premium, commercial WordPress plugin is the high level of user support that you gain access to.If you buy WPML, you gain support that is available 19 hours a day in nine different languages. The WPML documentation is also very helpful because it includes details and instructions on how to use the plugin.
The free version that Polylang offers is not supported by its developers, but you can still take advantage of the user community and should be able to find what you are looking for. For help from plugin creators, you need to upgrade to the Polylang Pro version,which will allow you access to support. It also has good documentation that you can start using and exploring once you upgrade.
Cost
In terms of costs, Polylang and WPML have different options to choose from, giving you a choice on what you want to spend for certain features.
Polylang
WPML does not offer a free version, but the prices are very for the amount of features offered. The three packages WPML offers are available at annual rates. The first one costs $29, the second $79 and the last called Multilingual Agency is $159.
If you buy the WordPress multi-language plugin on an annual rate, you will pay a lower price overall, ranging from $21, $59 and up to $119. No matter which one you choose, you also get a 30-day money back guarantee.
Conclusion on Polylang vs WPML
In conclusion, discussing the similarities and differences between Polylang and WPML is something that developers should consider when making their choice about which tools to use for their websites. Judging from what we have seen, both Polylang and WPML have a number of pros and cons. Overall, due to its user-friendliness, performance, and accessibility, we recommend WPML. If you don't like our recommendation, you can try Weglot for its ease of use, giving you a multilingual website in minutes or TranslatePress, due to its visual translation interface which makes it extremely easy to use.
WPML is easy to use, and it also works with Be Theme, a cool WordPress theme that comes with many features, including drag and drop page builders. Have a look at both options and decide for yourself which is going to be the best choice for you.
FAQ on Polylang vs WPML
Which one is easier to set up: Polylang or WPML?
Oh, man! This one's a classic. So, if you're looking for something straightforward, Polylang might be your jam. It's pretty intuitive for beginners. But hey, don't get me wrong, WPML isn't rocket science either. It just has more features, which can make it seem a tad more complex initially. But once you get the hang of it, it's smooth sailing.
How do they handle translations?
Alright, here's the scoop. WPML is like that Swiss Army knife of translations. It supports manual translations, professional translation services, and even automatic translations. On the other hand, Polylang is more like your trusty old pocket knife. It's mainly about manual translations, but it does the job well. So, it's really about what you're looking for in a translation tool.
What's the cost difference?
Ah, the million-dollar (or maybe not-so-much) question! Polylang has a free version, which is pretty neat for those on a budget. But if you want more features, they've got premium versions too. WPML, on the other hand, is a premium plugin. You gotta shell out some cash, but hey, you get a ton of features in return. So, weigh your needs and your wallet!
Can I switch between them easily?
Switching between plugins, especially something as intricate as translation plugins, can be a bit... tricky. If you're moving from Polylang to WPML, there's a migration tool. But always, and I mean always, backup your site first. You never know when things might go sideways.
How do they affect site speed?
Site speed, the unsung hero of the web. Both plugins are pretty optimized, but like with anything, the more features and translations you add, the more potential there is for a slowdown. WPML might be a tad heavier because of its extensive features. But hey, with proper caching and optimization, you should be golden.
Which one is more popular?
Popularity contest, huh? Well, both are pretty big names in the WordPress multilingual scene. WPML has been around longer and has a larger user base. But Polylang has been gaining traction, especially with folks who dig its simplicity.
Do they both support RTL languages?
Oh, absolutely! Both Polylang and WPML support RTL (right-to-left) languages. So, if you're looking to translate into Arabic, Hebrew, or any other RTL language, you're covered with either choice.
How's the support for each?
Customer support can be a game-changer. WPML has a pretty solid reputation for its support. They've got documentation, forums, and a ticket system. Polylang, while it offers support for its premium versions, might not be as extensive as WPML. But hey, it's always evolving.
Are there compatibility issues with other plugins?
Plugins playing nice with each other, that's the dream, right? Both Polylang and WPML are developed to be compatible with major plugins. But, as with all things WordPress, sometimes conflicts can arise. It's always a good idea to test on a staging site first.
Which one should I choose?
The age-old question! It really boils down to your needs. If you want something simple and possibly free, Polylang might be your pick. But if you're looking for a more feature-rich solution and are okay with spending some cash, WPML could be the way to go. Trust your gut, and you'll make the right choice!
If you enjoyed reading this article on Polylang vs WPML, you should check out this one about how to fix the Contact Form 7 not sending emails.
We also wrote about a few related subjects like
bbPress vs BuddyPress,
Contact Form 7 vs Gravity Forms and
the best WordPress redirect plugin.