WordPress Failed to Write File to Disk: How to Fix This
March 9, 2023

The Best Restaurant WordPress Theme Examples to Choose From
March 9, 2023
WordPress is the perfect place for publishing a travel website. It is inexpensive and easy to work with.
It has all the features you need thanks to an active community. It also offers a plethora of good-quality plugins and themes.
Do you need a travel WordPress theme for building your website or blog? This article highlights some of the best WordPress themes for travel sites.
You will find well-known names but also some new ones. These newer themes may surprise you with what they have to offer.
BeTheme
Betheme is the ideal package. This theme has everything you need to design and build an astonishing travel website.
Its design is beautiful and its functions work well. This theme can serve any purpose, including travel blogs.
It has a huge array of power tools and design elements it places at your disposal. It's easy for beginners to work with. If trying to satisfy multiple clients has become more stressful than rewarding, BeTheme has a solution for that as well.
BeTheme's selection of hundreds of customizable, responsive pre-built websites is the highlight and a proven stress reducer. These professionally crafted, pre-built websites cover 30 industry sectors, all the common websites, and an impressive range of business niches.
The customizability of the theme makes it a dream come true for its users. There are 4 types of Page Builders that you can use with it: WPBakery, BeBuilder, and Elementor among them.
And now with the BeBuilder Woo, it's even more impressive.
But this is us talking about our theme. Why believe us, right? Here's what a user had to say on Themeforest recently: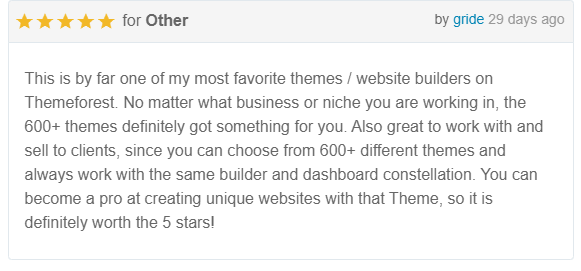 And there are thousands of reviews like this one.
Check out BeTheme and see why our users love it!
Embark
Embark is a modern travel WordPress theme with a range of specific features.
There are three demos that help you to get your website online fast. The demos serve different niches in the travel business.
You can also make your own unique design. To do this you can start from scratch or modify one of the demo pages.
Embark offers a practical frontend drag-and-drop page editor. To help you further, there are 20 templates and over 40 custom widgets.
The Embark package comes with Master Slider Pro, a plugin for showing images in eye-catching ways. Other important features are the form builder and the secure PayPal integration.
Be Travel
Travelbiz is a free theme for travel agencies, blogs, and adventure travel websites. It has an elegant design, a screen-wide image slider, and a custom search engine.
A practical booking system forms the core of a good travel agency website.
Travelbiz offers an excellent booking system that visitors can use to book their trips. You can decide what your tour packages include and what clients can add to their deals.
This theme has only basic customization options, which makes it easy to use. Integrations with many popular WordPress plugins are seamless.
Be journey
This is the ideal travel WordPress theme for travel agency websites and personal projects.
It contains some very attractive and modern home page designs. You will find one with the right look for you.
GoTravel has many customizable settings and options. This allows you to edit it any way you like.
Choose from templates for user reviews, destination lists, maps, and bookings. The WooCommerce compatibility makes GoTravel a suitable choice for an online travel agency.
Go for a local or global approach with the weather widget.
Be Sea Journey
This next choice is great for making travel agency websites. The image header spans the full width of the page.
The layout with the search box at the top is reminiscent of the Airbnb website.
The search function is very practical. Visitors can narrow their search by location, date range, and travel type.
Wanderers' premium version offers some beautiful ready-made pages and page sections.
You can drag and drop the different page elements into place. Publish tours, tour packages, testimonials, and picture galleries.
Other features include a tour booking form, blog support, and a variety of stock photos included in the demo site.
Be Safari
The design of the Grand Tour theme is beautiful, and there are different looks and feels to choose from.
This theme includes several ready-made homepages and inner pages. There are special designs for tour lists and tour detail pages.
The page builder is very intuitive. It allows you to customize the template or create one yourself.
It is quick and easy to apply color schemes or styles to your design.
Grand Tour comes with an advanced search function, autocomplete forms, and sorting by popularity. Visitors can indicate their satisfaction in a review after their trips and tours.
Be Mountain Guide
The next travel agency website template is Travelo. It has a great design and the sections integrate seamlessly into each other.
The Visual Composer plugin makes customizing the Travelo template an easy job. Also, Travelo offers over 55 shortcodes that enable the modification of the website.
It is only a matter of copying and pasting the code to add a new feature to the website.
The included mega menu allows you to create a stylized menu at the top of the website. You can make an icon-based environment with the enclosed set of custom and Font Awesome icons.
Be Extreme
According to its description, this was the first WordPress theme for travel websites on ThemeForest.
Book Your Travel is a responsive theme. It has a design for travel agencies, tour and tour operators, car rental companies, and others.
The theme is translation optimized.
The tour booking system is one of the outstanding features of Book Your Travel. It offers accurate availability data and an advanced search function.
The marketplace allows vendors to submit and manage their listings and availabilities. It also includes a rating and review system, and much more.
Be Adventure
Wanderland is an inspiring template for travel blogs. It supports WooCommerce, so you have the option to start an online store.
A creative blog list and individual posts come together with positive comments from followers. This theme is one of the best for making a content-rich travel blog.
Other features and compatible plugins include:
Blog List
Instagram List
Image Gallery
WPBakery page builder
Yoast SEO
Contact Form 7
Be County
Next on this list of travel WordPress themes is Triply. It is great for travel agency websites, tour booking companies, and tour operators.
There are four different homepage styles and a couple of demos. It also offers single layouts for tour pages, listings, and travel destinations.
Besides these templates, it offers a free version of the BA Book Everything plugin.
This is a robust booking system with all-around managing capabilities. The plugin is also compatible with Google Reviews.
Triply has an advanced search function with filters. This allow users to narrow down their searches.
Tour bookings are very easy and take only a couple of clicks. Users can search by price with the handy calendar feature.
Be Adventure
This is a free theme for making a travel blog. Or use it to create a website for travelers, travel magazines, or travel agencies.
Blossom Travel has a form for subscribing to a newsletter. This is a great way of building an email list of potential customers. However, you should still look up the best email finders and integrate them as an additional way of building your email list.
A newsletter also helps to increase the number of blog visitors and motivates them to come back.
Blossom Travel has a beautiful frontend design and an easy-to-use content management system. It is compatible with WordPress live customizer for easy customization.
A practical feature is that it allows you to publish Instagram pictures. Many visitors return to a blog because they love impressive photos.
Be Wanderer
The clean design and search function help visitors to plan and book their dream trip. They can focus their search based on dates, duration, price range, and destination.
Tour Master is one of the plugins that Travesia integrates with. This is a popular tool for making bookings that also comes with its own payment system.
The benefit is that you do not need any other eCommerce plugins to start selling online.
Travesia allows you to adjust colors and fonts. You can do all further customization through the Visual Composer plugin.
Be Journey
Tripster is a flexible WordPress theme. It adapts to the needs of the user, be it for a personal travel blog or a larger company website.
This travel WordPress theme includes seven homepage layouts. There are various inner page designs, as well as different layouts for blog posts.
All the designs are beautiful and practical. They are ideal for showcasing your travel stories and photos.
Tripster is compatible with Elementor, a drag-and-drop page editor that is easy to use. You can make any design you want with it.
You can make further adjustments using the WordPress dashboard.
Be Safari
Potential customers will love websites based on the Altair WordPress theme.
Scrolling through the travel packages is a pleasant experience. It features pictures to draw people in and makes smart use of background images.
Altair offers six layouts. Each layout reveals different levels of detail about the individual travel packages.
The advanced theme panel allows you to customize font, color, and other website elements. You can choose from more than 300 Google Fonts.
Adding elements to a page is very simple thanks to the custom shortcodes.
TravelTour
You can display different travel services with this travel WordPress theme. Choose from trips for one or multiple days.
TravelTour lets you set different pricing options. Customers can even use coupon codes during the purchase of their tour bookings.
When a person buys a travel tour deal, they get access to a personal dashboard.
There they can check their bookings, receipts, and wishlists. They can also view previous trips and write reviews for them.
This theme offers many features that focus on the client.
On top of this, it uses GoodLayers Page Builder. This is a simple page builder with a drag-and-drop interface that displays changes in real-time.
Tour Package
This theme focuses on what a travel agency website needs.
Tour Package offers a post type that shows travel packages in an attractive and simple way. Website visitors can filter and search the different travel tours.
The unique booking form uses Contact7 to function. Besides that, Tour Package is responsive and it is retina-ready.
Tour Package has now released version 2.00. This latest version includes PayPal and WooCommerce integration and a boxed-style layout.
The theme also has optimization for SEO and WPML.
Travelingist
A nice feature of this travel WordPress theme is the sidebar menu. This feature is perfect for displaying main blog pages in a particular order.
The developers of Travelingist continue to update their product. They will include new features soon.
The result is a theme that is easy to customize.
Travelingist is SEO-optimized and allows you to receive money through different payment portals.
Valley
Valley is a theme focused on traveling and touring. The theme incorporates a wide variety of ready-made layouts and additional components.
Valley has six complete demos. Each of these demos has a different aim and purpose.
This beautiful WordPress theme features a drag-and-drop builder. So working with Valley does not require any coding knowledge. If, however, you are still reluctant to try and do it yourself, there are plenty of travel website development services online that could help you. 
Some other important features include:
Booking system
Full WooCommerce support
Google Maps
Region selection
Revolution Slider
Search engine optimization
Trawell
ThemeForest also offers this travel blog theme. It contains various blog post layouts.
It is easy to customize the site or page to make it match your personal branding.
The homepage template has different sections. Each section is customizable and you can move them to any part of the page.
This awesome theme has several templates with varying fonts and colors.
You can change the layouts of the posts and assign a specific layout to a different category. A unique feature is that the layouts have spaces for banners that help you to raise money via your blog.
SetSail
SetSail is a theme that is most suited for selling tour bookings. The theme offers a range of pages for displaying tours.
Visitors can sort and filter the options, making it easy for them to choose the best option. People that have finished their trip can leave a review for the benefit of other customers.
Visitors can generate a profile that gives them access to extra features.
It makes tour booking even faster and easier. They also need the account to leave their tour review.
Travel Log
Travel Log is a basic but free WordPress theme. It is useful for making travel blogs and websites.
It includes a travel plugin that provides all the features a travel site needs.
The homepage layout has a slider in the header and customizable sections below that. Configuring and modifying Travel Log is simple with the WordPress Live Customizer.
It is compatible with the WP Travel Plugin. This makes managing tour bookings easier.
Tripo
Travel agencies, adventure tour operators, and similar businesses will enjoy Tripo. It includes eight amazing home demos and an additional 17 inner page layouts.
It has everything to get your professional travel website up and running.
The layout is optimized for mobile devices and retina screens but displays well on all devices. The websites load fast and have optimization for search engines.
Entrada
The Entrada theme is simple, elegant, and functional. Its target audience is those who offer adventure tours and other travel agencies.
It's especially useful for travel agencies that offer city tours, travel packages, and full vacations.
Entrada uses shortcodes for fast customization. It gives unlimited color schemes, icons, and typographies.
The theme is responsive and retina-ready. It includes the Revolution Slider plugin and uses the Bootstrap 3 framework.
GoExplore
GoExplore delivers a travel WordPress theme along with a collection of Google Fonts.
It has a banner that spans the width of the screen for showcasing destinations. A special feature is a call-to-action section to further engage the visitor.
This theme sorts destinations in an accordion style. This makes it easier for visitors to find a tour that includes their favorite activity.
The accordion section has different animations that grab the visitors' attention. Also, the multiple columns help to organize the information even more.
Love Travel
Love Travel is a feature-rich travel theme. It is an ideal tool for making galleries and travel pages.
You can include a webshop and custom maps. Love Travel uses the WordPress dashboard for configuration.
The mega menu allows the user to set up an expansive navigation system. It includes Slider Revolution for making impressive image sliders.
Another useful plugin is Isotope. This adds searching and filtering options to the site.
Love Travel is translation-ready with WPML compatibility. With the features that this theme offers, creating a travel site like Expedia is within reach.
Trendy Travel
This list of travel WordPress themes ends with Trendy Travel. It is a theme for travel agencies, tour operators, and similar tourism-related companies.
Trendy Travel offers a wide range of features that will make your website unique. There is a mega menu, a range of layout options, and a long list of shortcodes.
You can start a forum with the bbPress plugin. The WooCommerce plugin helps you to expand your online commercial activities.
You can arrange your travel packages neatly in different columns.
Website visitors can filter and search the entries with the advanced search function. Managing hotels, places, and other destinations is simple with Custom Post Types.
FAQ about travel WordPress themes
What is a travel WordPress theme?
A travel WordPress theme is a pre-made website template made for businesses that have to do with travel, like travel agencies, tour operators, hotels, and resorts. These themes have built-in tools for trip planning, reservation systems, itinerary builders, photo galleries, and more, all of which are useful for the travel industry.
What are the best travel WordPress themes available?
There are a lot of free and paid travel WordPress themes available on the market. Be Theme, Divi, Astra, OceanWP, and Avada are some of the best paid travel WordPress themes. On the other hand, Travel Way, WPVoyager, and Travel Diaries are three of the best free travel WordPress themes.
How do I choose a travel WordPress theme?
To choose the right travel WordPress theme for your website, you should think about your specific needs, your target audience, and the features you need. Look for a theme that looks good, works well, and is easy to use. You should also make sure that the theme is optimized for SEO and has all the features you need, such as booking and reservation systems, integration with social media, and integration with a blog.
What features should I look for in a travel WordPress theme?
You should look for features like responsive design, booking and reservation systems, itinerary builders, photo galleries, social media integration, and blog integration when choosing a travel WordPress theme. You should also make sure the theme is SEO-friendly and has an easy-to-use interface.
Can I customize a travel WordPress theme to fit my needs?
Yes, you can change a WordPress theme for travel to fit your needs. Most themes have options for changing things like the color scheme, font style, and layout. You can also personalize your website by adding your own text, images, and brand elements.
Are travel WordPress themes mobile-friendly and responsive?
Yes, most travel WordPress themes are made to work well on mobile devices and to adapt to the size of the screen. With more and more people using mobile devices to access websites, it is important to have a website that works well on mobile devices.
Do travel WordPress themes come with booking and reservation systems?
There are a lot of built-in booking and reservation systems in premium travel WordPress themes. With these systems, people can book travel services and pay for them right on your website. If the theme you choose doesn't have a booking system, you can add one with a plugin from a third party, like WooCommerce or Easy Digital Downloads.
Can I integrate a travel blog into a travel WordPress theme?
Yes, most WordPress themes for travel come with ways to add a blog. On your website, you can make a travel blog and post information about your travel services, destinations, and experiences. This can help bring more people to your website and make your brand known as an expert in the travel business.
How much do travel WordPress themes cost?
How much travel WordPress themes cost depends on their features, quality, and customer service. Most premium themes cost between $50 and $150, but some high-end ones can cost more than $200. But there are also a lot of free travel WordPress themes that can work for simple travel sites.
Are there any free travel WordPress themes available?
There are, in fact, a lot of free travel WordPress themes on the market. Travel Way, WPVoyager, and Travel Diaries are some of the best-known ones. These themes may not have as many advanced features as premium themes, but they can be a good choice for simple travel websites.
Final thoughts on the best travel WordPress theme
Nowadays, most people book their travels online. Hotels and other tourism businesses need to adapt to this shift in buying behavior. Free Google Slide Templates
To survive they will need to have an effective website. It needs to be professional to attract visitors and offer the right functionalities.
The themes listed here are suitable for travel agencies, bloggers, and hotels. They all make for professional, well-functioning websites at affordable prices.
All of them have various customization options. Think about what you need and pick the best travel WordPress theme for you.
If you enjoyed reading this article on travel WordPress theme examples, you should check out this one about
lead generation WordPress theme examples.
We also wrote about a few related subjects like automative WordPress theme examples, yoga WordPress themes, best WordPress themes for consultants, WordPress themes for designers, architect WordPress themes,
WordPress themes for musicians,
videographer WordPress themes, school websites, handyman websites,
hotel website design,
the best looking tourism websites,
best corporate websites, cool looking personal trainer websites,
top notch musician websites,
and impressive animated websites.