Get the Best Travel WordPress Theme from This List
March 9, 2023
Creative Writer Website Examples to Inspire You
March 10, 2023
If you own a restaurant, bar, or cafe, you want to have a stunning website. Finding the right restaurant WordPress theme is crucial. With this theme, you should be able to build a restaurant website that combines style and functionality.
Your restaurant website will be the first point of contact with your menu for those who find your business online. Potential customers taste the food. So you want your images to reflect how exquisite your dishes are.
Your website is also an excellent place for your customers to find out about promotions and discounts. And the ability to make a reservation online is a must.
Some restaurant website features are:
Showcase your menu and present stunning pictures of your best meals.
Create a desktop and mobile version. Your clients should be able to navigate the site from any device.
Manage online reservations, saving time for you and your clients.
This article features some of the best WordPress restaurant themes available.
BeTheme
BeTheme is the definitive multipurpose theme. It has a huge array of power tools and design elements it places at your disposal. It's easy for beginners to work with. If trying to satisfy multiple clients has become more stressful than rewarding, BeTheme has a solution for that as well.
BeTheme's selection of hundreds of customizable, responsive pre-built websites is the highlight and a proven stress reducer. These professionally crafted, pre-built websites cover 30 industry sectors, all the common websites, and an impressive range of business niches.
The customizability of the theme makes it a dream come true for its users. There are 4 types of Page Builders that you can use with it: WPBakery, BeBuilder, and Elementor among them.
And now with the BeBuilder Woo, it's even more impressive.
But this is us talking about our theme. Why believe us, right? Here's what a user had to say on Themeforest recently: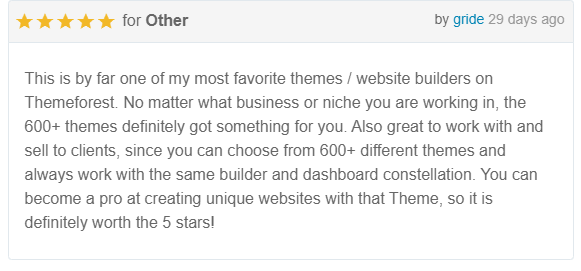 And there are thousands of reviews like this one.
Check out BeTheme and see why our users love it!
Grand
ThemeGoods created Grand with prebuilt demos. This fully customizable restaurant WordPress theme adapts to plenty of niches.
Grand has more than seven demos specializing in Italian, Asian, and other cuisines. These demos come packed with flexible options. For example, you can choose from different restaurant menu styles and add extra features, different pizza sizes.
Thanks to WooCommerce integration, you can even create your own delivery service. Simplify your business by managing your reservations with OpenTable.
Grand is an excellent option for restaurant websites.
Be Restaurant
Asian food fans will love Nigiri. It comes with free plugins like Visual Composer, sliders, and a responsive timetable. Its responsive layout works seamlessly across different devices.
Nigiri was specially created for Sushi restaurants. Its stunning design works best with minimal and light brands. Yet, you can adapt to any food menu.
Its picture-based layout displays your dishes beautifully. And you can have your site up and running in no time with any of its six pre-made templates.
Be Restaurant
You can customize this Restaurant WordPress theme with the included theme customizer. It provides a stylish design anda large image carousel. And the convenient call-to-action buttons on the front page convert leads effortlessly.
This free WordPress restaurant theme offers a simple yet powerful solution to restaurant websites. Restaurantz by Site Originis compatible with several plugins, allowing you to add extra features.
Be Restaurant
If you are looking for a flexible restaurant WordPress theme, then Resca is the one. It includes excellent features perfect for a food business.
You can set up an online reservation system with OpenTable or use your own forms. Food menu interface, announce important events, and a subscription form for mail-outs are also included.
Slideshows help create a stunning design. And Resca comes bundled with the Slider Revolution Plugin. Another feature allows you to customize your site from the options panel and obtain cross-device support.
Be Restaurant
Laurent is an elegant restaurant theme. Its stunning dark design is the perfect background to display your restaurant menu. This option stands out from other WordPress restaurant themes thanks to its advanced features.
Forget about spending lots of time setting up your site. Laurent includes ready-to-use demos. You only need to customize a few details to personalize your brand, and you are ready to go.
Be Restaurant
Picante includes the Slider Revolution plugin free of charge. This feature opens a world of possibilities for your home page design.
You can use six unique colors to build your restaurant website. Create your own style by editing headers, navigation bars, and the site's active elements. You can access Picante's features from its management panel. Additionally, you can schedule and announce important events with the event blog.
Picante allows you to display your food menu stylishly, but that's not all. This theme is fully compatible with WooCommerce, helping you manage all aspects of your restaurant business. Your customers can order and pay online, giving them an excellent user experience.
Be Restaurant
If you want to set up your own restaurant website but have no coding skills, worry no more. Linguini provides a ready-to-use solution that adapts well to all food businesses. It's suitable for restaurants, cafes, bars, bistros, pubs, and wineries.
Its responsive design adapts to all devices, from desktops to tablets. It includes features like a menu management system, a gallery, a blog section, and a contact form. Additionally, you can also manage the reservation form from the site's backend.
Linguini creates the perfect environment to promote your services and events.
Be Steak
Attika brings a perfect balance between style and functionality. It provides a high-end design for top restaurant websites. But that's is not all! It also offers a smooth online reservation system.
This highly flexible restaurant WordPress theme includes eight ready-made templates for your home page and other customizable sections.
Thanks to its shortcodes, you can set up specific features. These features include a reservation pop-up with OpenTable, a testimonials section, pricing tables, and business information.
Be Steak House
You can create a functioning and beautiful restaurant website with Cinnamon. It's easy to customize, thanks to its built-in page builder.
Addinga food menu to the sidebar, events to the calendar, and customizing every page using shortcodes is a breeze.
Cinnamon is a fully responsive restaurant WordPress theme ideal for building one-page websites. All the prime features needed by a food-related business website are included. Some examples are online reservations, menu layouts, and customizable headers.
It's WooCommerce-compatible so that you can sell your fare online.
Bakes And Cakes
If your budget is leaning toward a free WordPress restaurant theme, this is an ideal option. With Bakes And Cakes, you can give your site an exquisite design for free.
And it doesn't force you to compromise essential features like a testimonial section and call-to-action buttons. It comes with a variety of pages like About, Products, and Our Team.
Bakes And Cakes integrates smoothly with many free plugins for restaurant menu management. It supports WPML and WooCommerce. This theme is the perfect choice to create a functioning restaurant site on a low budget.
Deliciko
Deliciko's creators understand what it takes to run a food business. You have to do more than just display beautiful pictures to achieve your goals.
A profitable restaurant website needs to combine style, originality, quality, and functionality. And that is precisely what Deliciko offers. It includes five pre-made templates for different niches. These are Fine Dining, Bakery, Coffee Shop, Spaghetti Residency, and Salad Restaurant.
With Deliciko, you can set up your site hassle-free with its prebuilt custom shortcodes.
Use any of the 20 demos to create your restaurant website. You'll see that Deliciko is one of the best WordPress themes for a food business.
Piquant
This WordPress theme comes with six ready-made home pages for different niches, imported easily with just one click. The Piquant theme is ideal for bars, pizza restaurants, and cafes.
Piquant is highly customizable. Custom shortcodes, multiple layouts, and WPML compatibility will make your site look great. And it comes with WPBakery Page Builder, so you don't need any coding knowledge.
Lafka
Lafka offers a comprehensive solution to the food industry. It provides a wide variety of online food business features. The included ready-made demos with a modern style keep your customers engaged. The demos are highly customizable, so you can design your site according to your brand.
This option stands out from other WordPress restaurant themes for many reasons. It includes integrated add-ons, allergen information, and nutrition data.
Provide a memorable user experience by allowing customers to create their own pizzas and hamburgers. If you want a truly unique restaurant website, don't hesitate to choose Lafka.
LemonChili
Create a flawlessly tailored website to promote your brand with LemonChili. You'll love its seven custom widgets to feature all your business's information.
You can add your working hours, availability, featured meals, and events. At the top of the page, visitors will find your phone number and address. The latter can link to Google Maps. With just one click, visitors can call you or find your location.
This responsive WordPress theme is ideal for all food businesses, including bars, clubs, events, pubs, and restaurants.
Restaurant Food
Restaurant Food brings you all the features required to build a fully functioning food-related website. Managers can take online reservations or delivery orders. Customers can make online payments through this platform.
Its various demos fit many niches, like Asian, Italian, pizza places, and burgers. You can enhance Restaurant Food with third-party software, such as WooCommerce, Loco Translate, GDPR, and Mailchimp.
lzrestaurant
lzrestaurant has a different approach. Its primary purpose is to share information about food-related businesses. It's designed so that critics can write reviews about cafes, restaurants, bakeries, etc.
It also includes a testimonial section. Here, visitors can find feedback on the critics' reviews. This feature gives visitors a general picture of the restaurant's quality.
This option is SEO-friendly, lightweight, and allows for social media integration.
Piizalian
If you own a fast-food restaurant or pizza place, Piizalian is an excellent choice. It offers a straightforward design featuring extensive menus.
Elementor page builder makes this WordPress theme easy to customize. Showcase your products on a blog, customize page layouts, and take advantage of several demos. Unlike other options, it includes a shop to sell your merchandise.
Good taste and functionality make Piizalian one of the best WordPress restaurant themes.
Cake Bakery
As its name suggests, Cake Bakery is excellent for cafes, bakeries, cake designers, and ice cream shops. Its fully responsive layout helps keep your customers engaged.
Based on the grid system 1200px with two columns, this theme includes many helpful features. Some of the sections are About, Products, Contact, Archives, and Prices. Even better, you can animate your pages with fun icons.
Cake Bakery's soft colors and sweet design create the perfect environment to promote your bakery business.
Marco
No matter what type of food business you own, Marco adapts to them all. From sushi to bistro, fast food, burgers, pizzeria, and cafes.
You can choose from over 20 prebuilt demos. All of them offer an online reservation system, food menus, and WoooCommerce compatibility.
Besides a clean and attractive design, Marco also offers full customization options. The WPBakery page builder comes with a complete admin panel. Marco's elements are all you need to work your magic.
Eatery
Eatery offers a comprehensive solution for restaurant owners. Its clean and responsive design is perfect for a high-class restaurant or cafe.
Don't worry about the site's customization; this theme includes everything you need. You can customize your pages with ready-made shortcodes. Attractive menus and event announcements welcome customer engagement.
Eatery is translation-ready, thanks to the WPML plugin integration capability.
Here are some of Eatery's best features:
Flexible slider
Online reservation form
Fully responsive layout
Event announcements
Easy color customization
Giardino
Giardino is a flexible WooCommerce theme ideal for all businesses. It covers different menu types, including fish, meat, rolls, and seafood.
With its advanced features, you will be able to create a stunning restaurant website. It includes restaurant menu management, an online reservation system, a calendar, and a picture gallery.
With Giardino, you can build a website for any cuisine: Japanese, Chinese, Korean, Polish, Mediterranean, and others.
Tastyc
Tastyc is more than a restaurant WordPress theme; it's the perfect solution for any food business. From catering companies to bakeries, Tastyc brings a unique design.
Its sophisticated layout will remind customers of a professional food magazine. But Tastyc isn't just another pretty face. This WordPress theme comes with many features that support its stunning design.
Web developers can design reservation forms, use many ready-made pages, and provide menu listings. For easy customization, you have the Elementor plugin.
If you want to sell food online, choose Tastyc because this WordPress restaurant theme is compatible with WooCommerce.
Ekko
Ekko will help you build an elegant website that works well on all devices. Your dishes will look great on this sleek and lightweight theme.
Ekko provides a sublime experience for everyone. It offers a user-friendly platform for easy setup and a great user experience for your customers.
With this theme, you can provide your location on Google Maps and showcase your complete restaurant menu. Also, you can invite customers to upcoming events and impress your audience with Slider Revolution.
If you want to inspire trust, make sure to add testimonials and reviews. Ekko also offers the option for a food blog.
RedChili
This WordPress theme works well for more than food websites. It's also a fantastic option for businesses that need booking capabilities, such as hotels, B&Bs, tour agents, and guesthouses.
RedChilli includes amazing features like 600+ Google Fonts, eight blog formats, nine blog templates, a custom logo and favicon, a custom menu, and CSS.
Its modern design will impress your customers while providing them with exactly what they need. It's based on a grid layout and has an adaptable header.
It has a unique system for managing menus, including food and beverages. Encourage your clients to share your content through RedChilli's social media options.
Restaurant and Cafe
Restaurant and Cafe is one of the few free options on this list. It comes packed with the basic features to create a gorgeous restaurant website. You can also use it for bakeries.
An image slider showcases your dishes to entice your customers. With its online reservation system, you can manage your bookings hassle-free.
Your clients will be able to read testimonials and go through your restaurant menu. Simple yet functional, this is one of the best free WordPress themes.
Savory
Last but not least, we present Savory. This theme allows you to share every aspect of your restaurant. If you want an elegant design, this is the right option for you.
Savory's templates adapt to any business, and especially to high-class restaurants. You can also use it for diners, barbecuejoints, bars, and cafes.
The awesome design showcases your restaurant menu, shares recipes, and provides a blog. Online reservations won't be an issue, thanks to Savory's booking system and the OpenTable plugin.
Savory is the perfect theme for those who want to showcase and promote their products by blogging.
FAQ about restaurant WordPress themes
What features should a good restaurant WordPress theme have?
A good WordPress theme for a restaurant should have features that meet the needs of restaurants, such as ways to show the menu, make reservations, and order food online. It should also look good and be easy to use. The design should be responsive so that it looks good on all devices.
Can I customize the design and layout of my restaurant WordPress theme?
Yes, you can change the design and layout of most restaurant WordPress themes by using page builders, custom widgets, and other tools. This lets you make a unique website for your restaurant that fits its brand and style.
Are there any restaurant WordPress themes that come with pre-built menus and reservation systems?
Yes, there are many WordPress themes for restaurants that already have menus and reservation systems built in. These features can save you time and effort when setting up your website and make sure that your customers have a smooth experience when making reservations or looking at your menu.
Is it important for a restaurant WordPress theme to be mobile responsive?
Yes, it is important for a WordPress theme for a restaurant to be mobile-friendly since many people use their phones to look around and make reservations. A mobile-responsive design makes sure that your website looks good and works well on all devices, which is important if you want to attract and keep customers.
Can I integrate my restaurant's social media accounts into my WordPress theme?
Yes, most WordPress themes for restaurants can be linked to social media accounts. This can help you build your online presence, get more people to follow you on social media, and tell more people about your restaurant.
How do I choose a restaurant WordPress theme that is optimized for SEO?
When looking for a WordPress theme for a restaurant, look for one that is SEO-friendly, has clean code, loads quickly, and is mobile-friendly. Also, make sure the theme works with SEO plugins like Yoast SEO and has features like schema markup to help search engines understand what's on your website.
Are there any restaurant WordPress themes that are designed specifically for certain types of cuisine, such as Italian or sushi?
Yes, there are many WordPress themes for restaurants that are made for certain kinds of food, like Italian, sushi, or other kinds of food. Most of the time, these themes come with pre-built menus and images that are specific to the type of food. This helps give your customers an authentic experience.
Is it possible to create an online ordering system with a restaurant WordPress theme?
Yes, you can use plugins like WooCommerce or Easy Digital Downloads to turn a WordPress theme for a restaurant into an online ordering system. You can set up an online store and accept payments right on your website with these plugins.
How much should I expect to pay for a premium restaurant WordPress theme?
The price of a premium WordPress theme for a restaurant can vary a lot depending on how many features and functions it has. Most of the time, prices are between $50 and $150. It is important to think about the value of the theme because a good theme can help your restaurant's online presence and make more money.
Are there any security concerns that I should be aware of when using a restaurant WordPress theme?
Any time you use software or a platform, including WordPress themes, you run the risk of security problems. But reputable theme developers will regularly add security patches to their themes and follow best practices for writing code that is secure. Using trusted plugins and making sure your WordPress site is always up to date can also help reduce security risks.
Final thoughts on the best restaurant WordPress theme examples
All food-related businesses need a solid online presence. There is no need to say how important a restaurant's website is.
Through your website, your clients can:
Get acquainted with your restaurant menu
Connect with your brand
Order and pay online
Reserve a table
Read and write reviews
Read blog entries for more information
With the right combination of style and functionality, you can make your business thrive. And your website is the foundation to achieve this goal. Choose any of these 27 restaurant WordPress theme options, and start building a stunning website for your food business.
If you enjoyed reading this article on restaurant WordPress theme examples, you should check out this one about
gaming WordPress themes.
We also wrote about a few related subjects like yoga WordPress themes, best WordPress themes for consultants, WordPress themes for designers, architect WordPress themes, political WordPress themes,
WordPress themes for musicians,
videographer WordPress themes, school websites, handyman websites,
hotel website design,
the best looking tourism websites,
best corporate websites, cool looking personal trainer websites,
top notch musician websites,
and impressive animated websites.