The Best Woodworking Websites with Great Web Design
September 9, 2021

The Best Designed Electrician Websites for Inspiration
May 20, 2022
Monetization is vital for every type of business. Having a steady cash flow and a healthy profit margin is what makes a business sustainable.
Every website needs to be functional and attractive. Visitors need to find what they are looking for quickly and hassle-free. If they have a pleasant user experience, they are likely to return.
But this is only the beginning. To sustain a stunning website, you need to keep making money, hence, generating leads. Luckily, there are many demand generation practices and lead generation WordPress theme options to help you achieve this.
The success of an enterprise depends on three key cycles. Each of them is a world in and of itself and requires a careful approach.
The three-part cycle to create a sustainable business:
1. Putting together a WordPress website combining functionality and style. Promoting your brand while offering first-class features is a must. These features will depend on the type of business. Some examples are online booking, training, shopping, shipping, etc.
2. Generate leads with a lead generation WordPress theme. There are plenty of tools that can support your website with the lead generation process.
3. Lead conversion, or when the person takes the action that you want. This action can be to buy, download, visit, click, share, etc. Usually, this is where the business makes money.
This article is about the second step: lead generation. Although this is a complex endeavor, there are plenty of WordPress themes that can help you.
Here you'll find our top picks for the best lead generation WordPress themes.
BeTheme
BeTheme is the definitive multipurpose theme. It has a huge array of power tools and design elements it places at your disposal. It's easy for beginners to work with. If trying to satisfy multiple clients has become more stressful than rewarding, BeTheme has a solution for that as well.
BeTheme's selection of hundreds of customizable, responsive pre-built websites is the highlight and a proven stress reducer. These professionally crafted, pre-built websites cover 30 industry sectors, all the common websites, and an impressive range of business niches.
The customizability of the theme makes it a dream come true for its users. There are 4 types of Page Builders that you can use with it: WPBakery, BeBuilder, and Elementor among them.
And now with the BeBuilder Woo, it's even more impressive.
But this is us talking about our theme. Why believe us, right? Here's what a user had to say on Themeforest recently: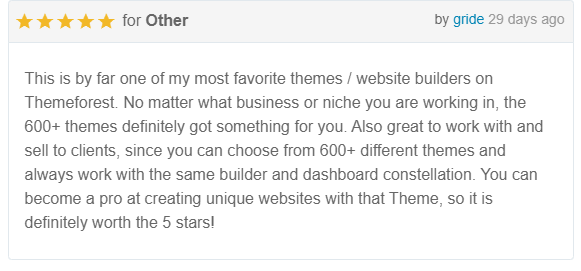 And there are thousands of reviews like this one.
Check out BeTheme and see why our users love it!
The SEO
If you want a truly unique style, you can customize your own layouts. This task is easy, thanks to the WPBakery page builder. With The SEO, you can choose from over 100 templates.
This lead generation WordPress theme is designed for marketing agencies. If you are struggling to rank on Google, then this is a great option. The SEO gives particular importance to search engine optimization. It's fully integrated with Yoast SEO, Google Analytics, and Google Webmaster.
If you don't have much time on your hands, you can choose from any of its website demos. These ready-made full-site demos are ready to import.
This theme is excellent for lead generation. It has enormous enhancement possibilities because it's compatible with many plugins. A few of them are Slider Revolution, SuppaMenu, Iconic icon set, IcoMoon Ultimate pack, and add-ons for the WPBakery page builder.
Be Agency
This theme is particularly useful for lead generation because it focuses on the landing page.
With JustLanded, you can create stunning landing pages quickly. It concentrates on the product and inspires the visitor's trust. If you add its customization possibilities, you have a lead generation machine.
This lead generation WordPress theme supports videos, sliders, banners, and colors. Your landing pages will look stunning on all devices, thanks to the theme's responsiveness. It also includes a custom signup form.
If you need help, JustLanded's developers createda support forum.
Be Landing page
Stratus is more than a WordPress theme; it's a template builder. At least that's how its creators promote it.
If you want to generate leads with a unique design, Stratus is your best option. It includes 25 ready-made templates and 40 different elements. You can combine them by using a drag-and-drop page builder.
Also, you can create a fantastic lead generation website using various features. These include contact forms, social media buttons, and price tables.
Additionally, you'll have a smooth workflow, thanks to Stratus. You can see your changes live instead of updating, saving, and reloading.
Be Landing page
With Leadx, you can create multiple landing pages. You can apply them to different industries like insurance, medical services, software, apps, and marketing.
Everyone in the lead generation sector knows how tricky marketing can be. One of the biggest challenges is to turn readers into customers.
Leadx provides an effective solution. It allows you to build sales, services, and product launching pages.
You can create stunning landing pages in no time. This feature will help you engage your customers and increase conversions.
Be Business
Pursuit is one of the top lead generation WordPress themes. It was created with lead generation in mind. And it includes all the necessary features to build an impressive site.
This theme includes modern design templates specially created for tech businesses. These may be ICOs, DeFi, crypto wallets, bitcoin businesses, and crypto companies.
Its features include an intuitive page builder, a solid options panel, over 25 shortcodes, easy form creation, touch-optimized sliders, and Master Slider Pro.
If you have a FinTech business, don't hesitate to try Pursuit. Thanks to its WooCommerce compatibility, you'll be able to sell products and manage payments.
Be Business
Specifically designed to create landing pages, Pergo will increase your business's value. It comes packed with 30 demos that adapt to different niches.
Each demo has a different way of generating leads.
Also, they are highly efficient, thanks to Pergo's innovative approach. The developers found a way to convey the business's message right on the front page. Thanks to this, your visitors will know exactly what your page is about as soon as they enter.
Pergo uses smart elements to enhance the offer's key aspects. Your readers will find a large banner stating the benefits of signing up.
Be Landing
This lead generation WordPress theme is powerful. With Leadinjection, you won't have any setup issues. It comes packed with 12 ready-made demos that are easy to install.
This theme stands out, thanks to its Lead Modal feature. This feature opens up a world of possibilities for site owners.
LeadInjection allows you to leverage the pop-up windows. You can set them up to appear when a visitor clicks on a link. If you prefer, you can use the Exit-intent Lead Modal. In this case, the pop-up will appear when the visitor tries to leave your site.
Be IT Service
While other WordPress themes have modern layouts, Converio has a neutral yet stylish design. Hence, it can adapt well to all sorts of niches.
Specially created with lead generation in mind, this option focuses on building sale pages. Its features, layout, and approach make Converio a high-conversion theme.
This multipurpose WordPress theme uses a live customizer. Powered by WordPress, this customizer allows you to change colors, headers, and typography.
You can watch the updates live with a straightforward customization process.
Be IT Service
With Engin, you can create and promote your offers. You can sell anything from digital products to app downloads. No matter what you offer, Engin helps you highlight your items easily.
This lead generation WordPress theme is very efficient because it doesn't use third-party software. It includes a page builder called Hybrid composer. It also comes with several templates, grid and masonry layouts, and multiple menu options.
Visitors can easily navigate your site from the landing pages to other sections. Its many pre-built elements are geared explicitly for e-commerce.
If you want the perfect landing page to promote your services, give Engin a try.
Be IT Service
Professional marketers and advertisers created Spyro. It keeps lead generation in mind for optimal marketing results. For this, it leverages social media profiles by promoting your services there.
This theme is the perfect option to capture leads and convert them. Its landing pages are outlined specifically for this purpose.
Spyro is easy to customize, thanks to its built-in page builder: Tatsu. If you want to set up your site in no time, use any of its 12 ready-made demos.
Be IT
With a modern design, WebOn brings a comprehensive solution for lead generation. Its multipurpose layout is supported by 11 templates that will make your site look stunning.
It's one of the most efficient lead generation WordPress themes. WebOn is compatible with Contact Form 7, WooCommerce, Elementor page builder, and Slider Revolution.
While relatively new to the industry, this theme targets designers and tech-related businesses. Also, its e-commerce features can be quite valuable.
Since it includes templates for App and SaaS, WebOn is one of the most innovative WordPress themes. If you want a fresh design for your tech business, take a look at this amazing option.
Be University
LeadPoint is a prime lead generation theme. It allows you to collect an extensive email database for you or other companies. You can use these in your marketing strategy by sending mail-outs, campaigns, offers, etc.
You can easily customize your site, thanks to the Elementor page builder. It includes over a hundred templates to create a stunning landing page. Also, you can add all sorts of pages like Product, About, Contact, and Sales.
Don't hesitate to get LeadPoint, one of the most flexible lead generation WordPress themes.
Be Agency
Innovio is a highly responsive, modern WordPress theme. Its innovative design is ideal for FinTech and tech businesses. Yet, if you want a striking style, you can use Innovio for any website.
This theme brings remarkable features for lead generation. For example, the Demo shows a floating signup form moving from the header to the footer. As the visitor scrolls down, they will have the form within their visual range.
The theme's layout is also designed to engage visitors. Its unique colors and squared shapes give the front page a stunning appearance.
And the icing on the cake? Innovio is fully WooCommerce compatible. Give this theme a try, and build a powerful online store.
Be Crypto Currency
With this option, you can create a website easily. It comes packed with the Hybrid Composer page builder. You'll be able to customize and manage your pages hassle-free, thanks to this lightweight builder. Its intuitive interface is a real time-saver.
This landing page WordPress theme can be used for any niche. Yet, it better suits lead capture, SaaS, and crypto startups. You can choose from several included demos.
Landkit-based websites score high for loading speed. Faster sites have proven to achieve higher conversions. Landkit's creators keep this in mind by offering smart loading and speed optimization.
With its fresh design, user-friendly builder, and high speed, Landkit provides you with an opportunity you cannot miss.
Be Event
This theme includes the Visual Composer plugin for easy customization. It also has 12 home page layouts you can install. Yet, the page builder gives you more flexibility.
Conversi is a powerful lead generation WordPress theme. Several contact form plugins, including Contact Form 7, work well with it.
It also offers many design options. For example, you can change the background image and use a wide array of colors. You'll have fun choosing the right typography, thanks to its Google Fonts integration.
You'll be able to impress your audience with animated slidersbecause Conversi comes with the Slider Revolution premium plugin.
Novaro
With Novaro, you can create a professional and responsive lead generation website. This WordPress theme covers all the needs of a website, including SEO compatibility. It boasts a high-performance level, thanks to its clean code.
These characteristics make Novario an excellent tool to support your marketing strategy. Explore all its 60 design templates and create all types of pages. If you don't find what you want, you have the opportunity to develop even more.
The theme includes eight inner pages that you can use for all purposes. You can create your promotion, services, or landing page with Novaro.
Inbound
This theme is one of the WordPress themes created specifically from a marketing perspective. It comes packed with eight ready-made demos with a white-collar style. With any of these, you can showcase your products professionally.
Check out the online lesson demo, and you'll see a large registration form. There you have plenty of space to explain your offer. All layouts come with clearly defined sections. Owners have the option to add a call-to-action at the footer offering a 30-day trial.
You can choose any of Inbound's demos to create your site quickly. But if you want a more personalized approach, you can use its drag-and-drop page builder.
Explore all of Inbound's features, and create a lead generation machine.
Archer Multi Variant Landing Page WordPress Theme
You can choose from any of the eight homepages packed into Archer. Its clean design and responsiveness make it the ideal foundation for your site.
With any of its eight pre-made pages, you can set up image and video headers. This ability will give your site a professional yet fresh look.
Discover all of Archer's possibilities for lead generation, call-to-action, and service promotion. Built with Bootstrap v3, HTML 5, and CSS3, this lead generation theme won't disappoint you.
Foton
Foton is the perfect theme to display your app, tech products, or company. Although it includes many landing page templates, it's also easy to customize.
You can choose from any of its nine page demos for easy setup. You can have your site running in as little as one day. But if you have the time, you can customize the pages in your own style.
Feel free to adapt the templates to your business using a page builder. With the WPBakery plugin included, Foton gives you plenty of options. You can work with the built-in demos or start a website from scratch.
Not many lead generation WordPress themes have this level of flexibility.
Smartic
This theme is one of the top-rated WordPress themes. With its WooCommerce features and beautiful design, Smartic can be used for any industry.
Build a stunning landing page with any of its 36 demos. It also includes 18 home page templates from which to choose. Smartic has awesome features like smart mega menus, 360° product views, product videos, and quick view attributes.
Feel free to customize your business website hassle-free. Smartic is compatible with the Elementor page builder. You can use WPClever's WooCommerce plugins to improve your visibility.
With a five-star rating, Smartic offers one of the best lead generation WordPress theme solutions.
Seosight
With Seosight, you can have an SEO-optimized website. A high ranking on Google will give you more lead generation opportunities.
Its high performance is due to its many integration options. If you want to sell software, you can use Easy Digital Downloads. You can also use WooCommerce to build a spectacular online store.
With Seosight you can customize your site as you like with the most popular page builders. The theme supports drag-and-drop options with Elementor or WPBakery.
This WordPress theme is a powerful lead generation tool. Your customers will be able to navigate the site easily, thanks to Seosight's mega menu. Contact Form 7 will help your lead-capture strategy.
Ewebot
Ewebot is a digital marketing agency WordPress theme. It was explicitly invented to offer SAAS SEO services and other types of web advertising.
It comes with four pre-built demos with an attractive, colorful design. With orange and blue backgrounds, you can display beautiful pictures, graphics, and icons. The second demo includes an analysis tool on the home page.
This lead generation WordPress theme uses the latest WordPress version. Hence, it's compatible with all tools and codes. With Ewebot, you'll have a fantastic lead generation assistant.
Pillar
Pillar is the perfect combination of simplicity and flexibility. If you want a design that's one-of-a-kind, edit it with Visual Composer. Or, if you want to build a site quickly, import any of the demos with just one click. You can choose from 100 different ready-made demos.
Creating landing pages will be simple, thanks to the nine available templates. They are tailored for different purposes like products or services. Pick any of these options to improve your lead generation rate.
You can use any of this theme's tools to create responsive designs. There are more than 150 content blocks to combine. You'll also find curated font pairs and over 2,000 icons.
With Pillar, your lead generation website will enjoy a fresh look and top-class functionality.
Urip
Urip is perfect for all landing pages. They are useful for lead generation, businesses, services, events, forms, startups, promotion, apps, and more. You can create a beautiful lead-capture form to engage your audience.
You can edit easily its clean and modern design. Urip works with Elementor and WPBakery.
Your visitors will get the best version of your site on any device. Its responsive design will look incredible on desktops, tablets, and smartphones.
Don't lose any leads due to low performance. Choose Urip, and enjoy a clean code and a first-rate layout.
FAQ about lead generation WordPress themes
What is a lead generation WordPress theme?
A way to get leads WordPress theme is a type of WordPress theme that helps businesses find new customers online. Most of the time, these themes come with features like customizable lead capture forms, landing page templates, and call-to-action buttons that tell website visitors what to do.
How can a lead generation WordPress theme help my business?
A lead generation WordPress theme can help your business by making it easier to get leads online. With the right theme, you can make landing pages and lead capture forms that are optimised for conversion, making it more likely that visitors will give you their contact information and become leads. This can help you grow your email list, keep in touch with leads, and make more sales in the end.
What are the key features of a good lead generation WordPress theme?
A good lead generation WordPress theme has customizable landing page templates, built-in lead capture forms, the ability to connect with email marketing software, and analytics tools to track conversions and improve your lead generation efforts. These themes should also be easy to use, with features like drag-and-drop and customization options that don't require you to know how to code.
Are there any free lead generation WordPress themes available?
Yes, there are free WordPress themes for getting leads. But these themes might not have all the options and features that paid themes do. GeneratePress, Hestia, and Astra are well-known free options.
Can I customize the design of my lead generation WordPress theme?
Yes, most WordPress themes for lead generation can be changed to fit your brand and design preferences. Many themes have drag-and-drop features and templates that you can change. This makes it easy to make a website that looks and feels like your business.
What types of businesses can benefit from a lead generation WordPress theme?
A lead generation WordPress theme can help any business that needs to get new leads. This includes both business-to-business and business-to-consumer businesses in a wide range of fields, such as ecommerce, real estate, finance, and more.
Is it easy to set up and use a lead generation WordPress theme?
Yes, most WordPress themes for getting leads are made to be easy to set up and use. With drag-and-drop and one-click installation, you can use many themes to make landing pages and lead capture forms without having to know how to code.
Can I integrate my lead generation WordPress theme with my email marketing software?
Yes, many lead generation WordPress themes can be used with popular email marketing software like MailChimp, Constant Contact, and AWeber. This lets you add leads to your email list automatically and start sending them targeted email campaigns.
How can I optimize my lead generation WordPress theme to increase conversions?
To get the most out of your lead generation WordPress theme, focus on making clear, compelling calls to action that get people to act. Test out different landing pages and lead capture forms to see what works best, and use analytics tools to keep track of your conversions and make decisions based on the data.
What is the best lead generation WordPress theme on the market?
There are many lead generation WordPress themes on the market, and the best one for your business will depend on your needs and goals. Thrive Themes, Leadpages, and OptimizePress are all well-known options. Before making a choice, make sure to read reviews, compare features, and try out demos.
A conclusion on the best lead generation WordPress theme options
These 25 lead generation WordPress themes are our top picks. They all offer the design, performance, and tools that any website needs.
Lead generation is an important part of a business's success. That's why it requires special care. Fortunately, your WordPress theme will play a special role, providing your strategy's foundation.
Next, we summarize the most important features to look for in a lead generation WordPress theme:
A visible registration form
A trust badge
Testimonials, reviews, and ratings
The company's contact details
Clear call to action
Browser and cross-device compatibility
Attractive images and compelling texts
Social sharing and links to social media profiles
Solid customer support
All this, combined with an exceptional user experience, can improve your lead generation. Don't forget to support your efforts with a qualified sales team and first-class products. With these guidelines in mind, you can sustain your business's success for a long time.
If you enjoyed reading this article on lead generation WordPress theme examples, you should check out this one about
gaming WordPress themes.
We also wrote about a few related subjects like yoga WordPress themes, best WordPress themes for consultants, WordPress themes for designers, architect WordPress themes, political WordPress themes,
WordPress themes for musicians,
videographer WordPress themes, school websites, handyman websites,
hotel website design,
the best looking tourism websites,
best corporate websites, cool looking personal trainer websites,
top notch musician websites,
and impressive animated websites.