Elementor vs. Gutenberg vs. BeBuilder: What to Use When Building a Page
March 4, 2023

How to Fix the Facebook Link Thumbnail Not Working Error
March 7, 2023
Creating a professional-looking website boosts business credibility, increases revenue, and increases brand loyalty. Are you feeling overwhelmed by endless website building options? Where should you start?
We understand your dilemma, and we will help you narrow down your options. This article will compare three website builders: Elementor vs. Wix vs. BeBuilder. We'll look at seven questions business owners should ask before choosing a website builder:
1. What do the builders offer?
2. How do the building processes work?
3. How do the templates work?
4. Are the tools easy to use?
5. Does the website builder have unique features?
6. How is its customer support and documentation?
7. How much does it cost?
Let's get started!
1. What do website builders offer?
Let's compare the basic options from Elementor vs. Wix vs. BeBuilder and see if they meet your needs.
Elementor
Install Elementor to escape theme limitations in WordPress.
This website builder takes a visual approach to site design, making navigation intuitive for beginners and experienced designers alike.
A drag-and-drop editor places headings and other page elements onto a blank canvas when building your new website. You can develop your site from scratch or, to save time, pick one of Elementor's hundreds of ready-made templates.
Wix
This one is affordable and easy to use.
Millions of business owners globally use the Wix website builder. Just like Elementor, Wix users can build their websites without design or coding skills. The user interface (UI) is simple and straightforward.
Wix focuses on features for small businesses, from starting and managing a site to monitoring growth. There are even Wix integrations you can use to import and track sales data. The Wix template library offers unique designs for diverse industries. Practical business features include marketing campaigns, scheduling forms, and fulfillment management tools.
BeBuilder
Replace your basic WordPress editor with the BeBuilder page builder plugin for better control.
BeBuilder gives you greater control over your website's frontend and backend development. It also includes preset layouts, shortcodes, swipe technology, and carousel tech like Slider Revolution to build your website's foundation.
While BeBuilder focuses on the backend, Betheme comes with your bundle to build your website's frontend. Its themes are dynamic, responsive, and varied.
The frontend editor is live, meaning you don't need to flip back-and-forth between editing and the preview to see your changes. You'll see how they appear to website visitors as you make updates, and complex layouts are much more straightforward.
2. How do their building processes work?
When comparing Elementor vs. Wix vs. BeBuilder, think about the steps in putting together your website.
Elementor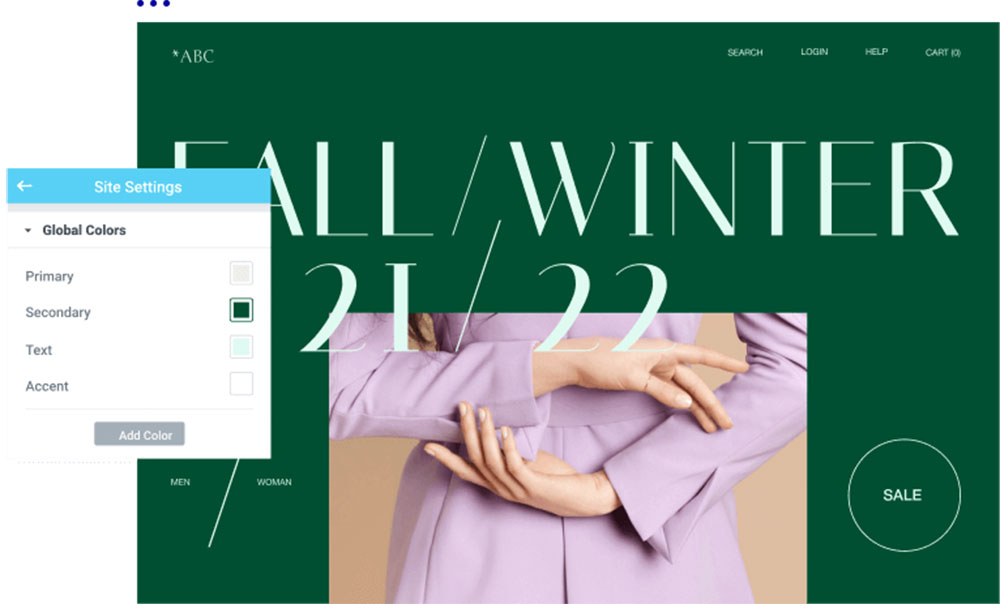 Elementor shines in the design category. Its vast array of elements for personalization makes web designers happy campers.
These templates help anyone who lacks web design experience. Even the free version gives website builders access to over 100 templates.
The Elementor Kit includes templates for your entire website, not just one page. That ensures a consistent design for your new site and a smooth experience for your visitors.
You can incorporate your favorite template into your website builder if you already have one. And you can import it by clicking either the add template button or the widget.
The template button is in your main editing area. Once you select it, click the my template tab, then search for your template.
If you choose the second option, drag the widget tool to your workspace, then select your preferred template.
Wix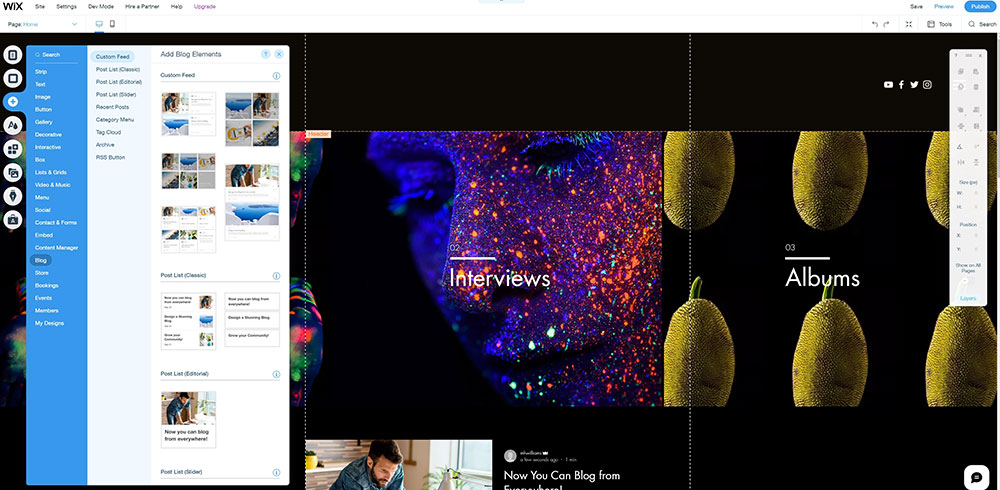 The Wix website builder offers several approaches to setting up a new website. The editor allows you to choose the template you like, design the overall structure, and then add your content.
The second approach is probably better if the first one sounds too complex. The Wix Artificial Design Intelligence (ADI) tool will ask questions about your goals for the website. The program uses your answers to build your website, customizing it with text and visuals.
Wix ADI then pulls your business information from the internet to populate your new website.
Wix Velo Mode is ideal for website builders who want more advanced website features. You can access their application programming interface (API), design dynamic pages, and build database collections.
BeBuilder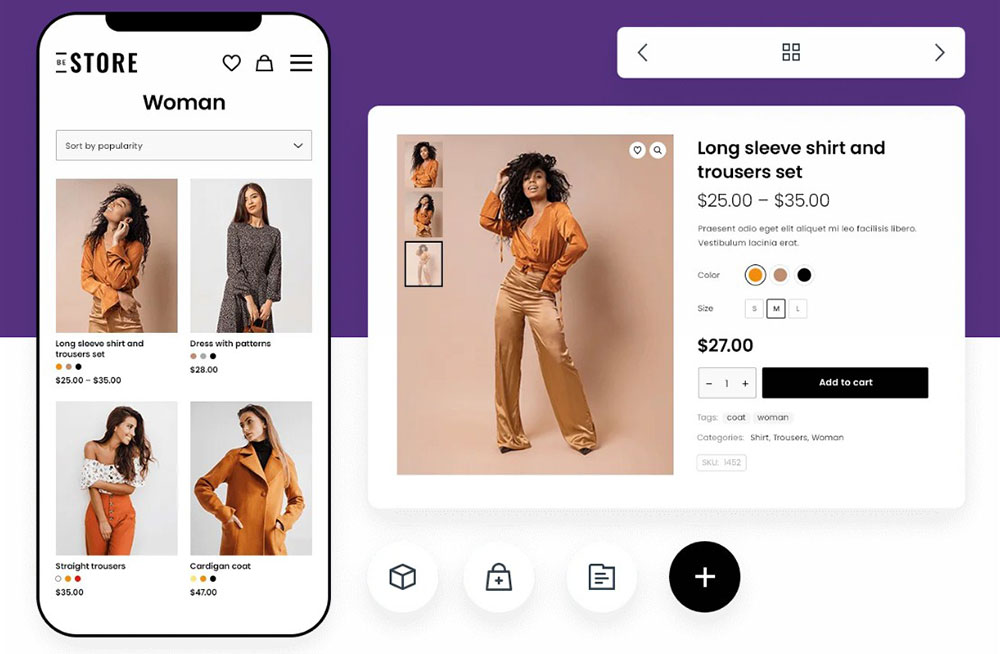 Betheme's pre-made website pages make setup a breeze with fewer complex design decisions. It starts with the overall basic website structure, adds preset web page layouts, then layers images and text.
The pre-made pages come with pre-designed sections, for example, contact and menu sections. These options eliminate time-consuming work and free you to focus on other important matters.
BeBuilder's designs are more like wireframes than complete templates, making them flexible and reusable.
3. How do their templates work?
Most website builders offer design templates, but which ones fit your needs?
Elementor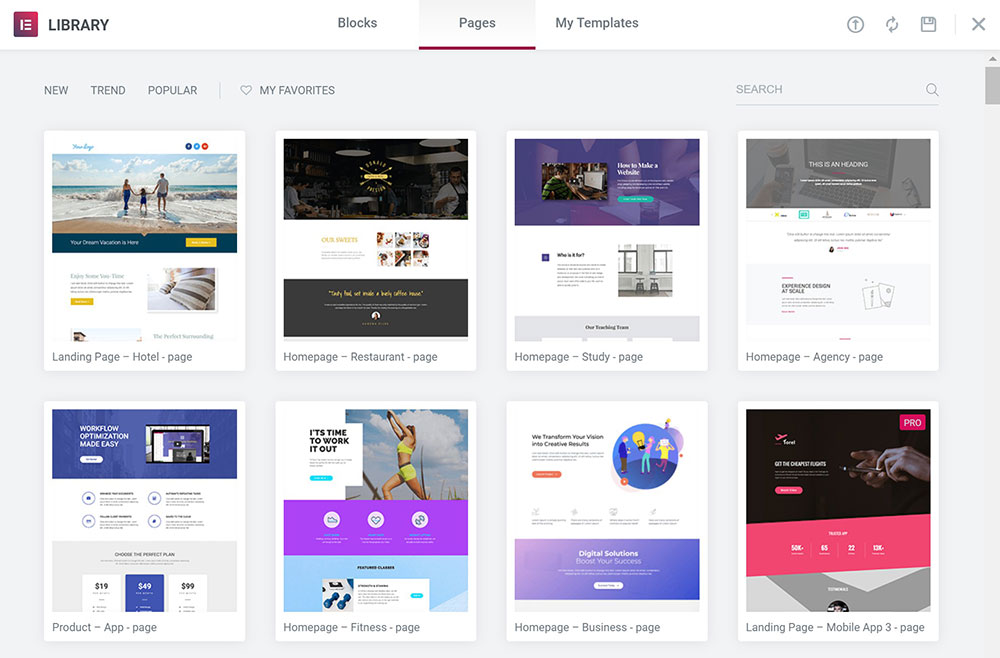 Elementor provides two different templates: block and page. First, block templates build specific parts of your webpage. Second, page templates use the page builder plugin to design particular web pages.
Elementor has almost unlimited template designs to fit any need. You can tailor your homepage to educational institutions, fitness centers, vacation planners, or any service your business offers.
You can also create customized themes and save them for later.
Additionally, you can import third-party templates, taking advantage of Elementor's endless options.
Wix
Wix has more than one way to provide website templates, separating itself from other website builders. Classic templates incorporate AI by asking questions before creating your website.
Wix categorizes templates by business type, simplifying the process of choosing the best style for your website. Categories include blogs, online stores, restaurants, and enterprises. This variety will help you find the Wix template that fits your needs.
BeBuilder
Website builders include basic layout options, like columns, but BeBuilder includes pre-built sections.
These sections (or blocks) perform functions to create eye-catching web pages effortlessly. You only need to select a few options, like images with text, customer testimonials, or contact us and click update. BeBuilder will immediately construct your webpage.
The blocks contain placeholder text and images. The only thing left to do is fill in your information. Done!
BeBuilder continuously adds to their section library, so customizing your page is painless. Each new pre-defined section they add makes your build smoother and faster.
4. Are their tools easy to use?
In this Elementor vs. Wix vs. BeBuilder comparison, you'll discover how intuitive their interfaces are.
Elementor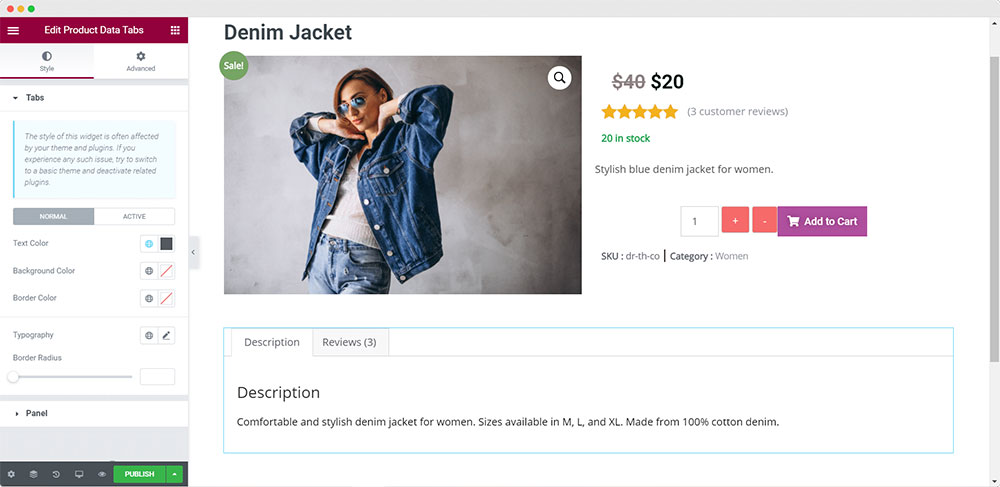 Instead of performing as a WordPress extension, Elementor operates over WordPress.
The jump from the WordPress editor to the Elementor website builder can overwhelm and confuse new users. The interface is vastly different, with no substantial introductions. Unlike Wix, Elementor doesn't hold your hand as you learn their process.
If you enjoy learning a new UI, editing in this intuitive interface will work well.
The advanced editing tools and widgets make Elementor easy to use, but it's not without challenges.
Most people now access the internet via mobile devices. This requires responsive websites that adjust to different screen sizes. And that is where Elementor falls short. Their tools for building responsive pages are difficult to understand and use.
Wix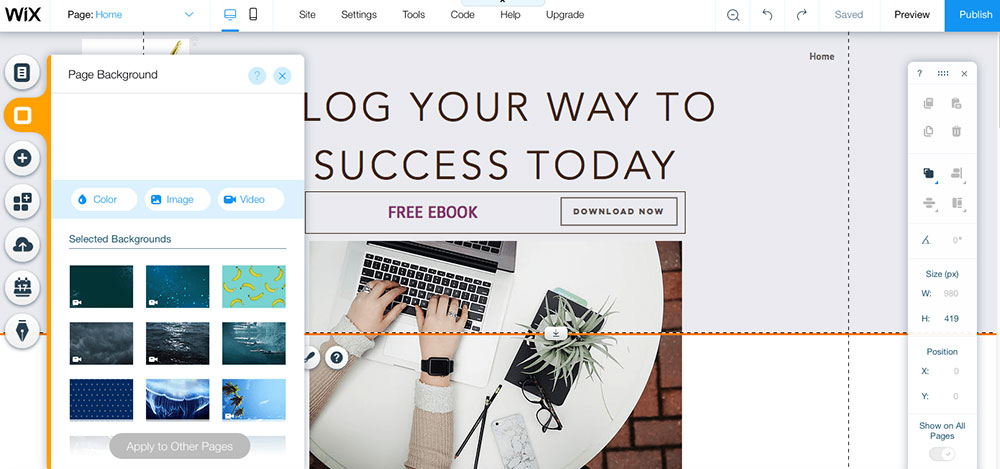 The Wix website builder is tailor-made for beginners. New users can build impressive and professional-looking websites without coding.
Wix offers name and hosting services, simplifying the online presence-building process. Customers don't need to find separate domain names or hosting services.
However, a strike against them is how challenging it is to change templates. Once you've established your website's template, you can't alter it. Unfortunately, you'd have to create a brand new template.
BeBuilder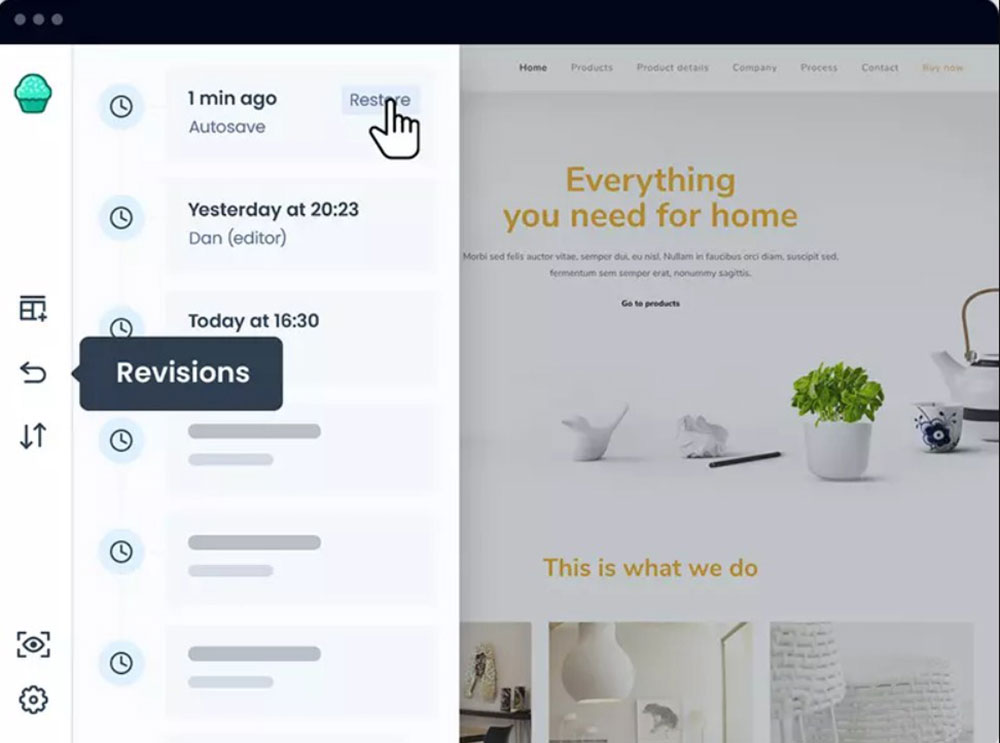 The BeBuilder UI is both comprehensive and straightforward to use. It gives users access to the WordPress content management system without complications. You don't need coding skills here!
BeBuilder has categorized over 100 pre-built sections to find and arrange them on your page effortlessly. If you know what you want, it's easy to find. Search under categories like contact or call to action for sections that fit your needs.
You can quickly revise and reuse the sections you've chosen as your business grows and your needs change.
5. Does the website builder have unique features?
What specific tools or features does your business need? How do these three website builders stack up?
Elementor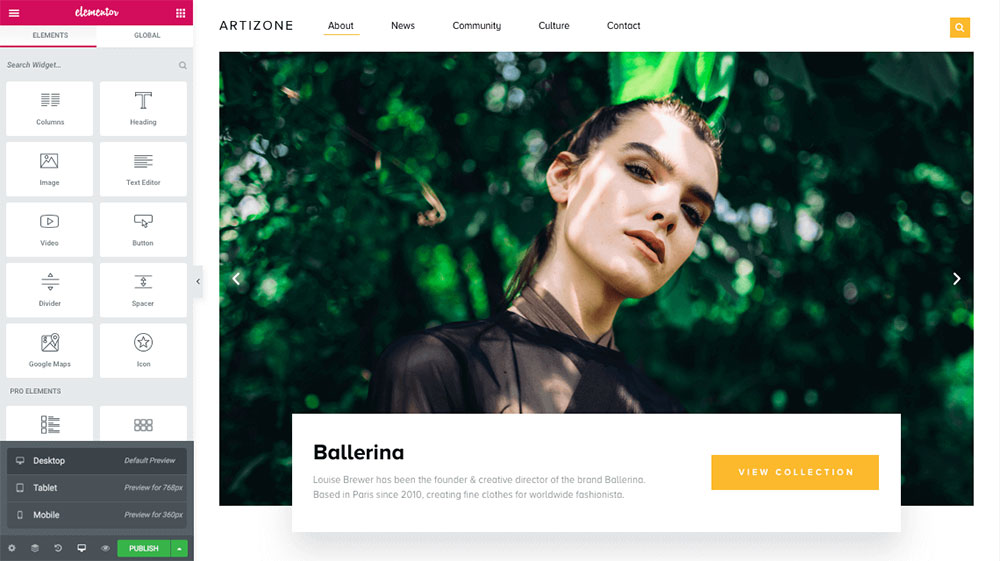 Elementor's development team isn't content to sit back and relax. They regularly create and release new features to improve their users' experiences.
The Embed Templates Anywhere feature uses shortcode to embed your saved templates. You can then add that code to any section of the page you're designing.
The Global Widget saves a design and can use it on multiple pages within your website.
Elementor's pro version offers the Form Widget to create various forms for your template.
The pop-up builder is another helpful tool. You can design unique overlays to grab your visitor's attention and engage them on your platform.
And if certain CSS features aren't yet available, the custom CSS tool allows you to implement those features manually.
Wix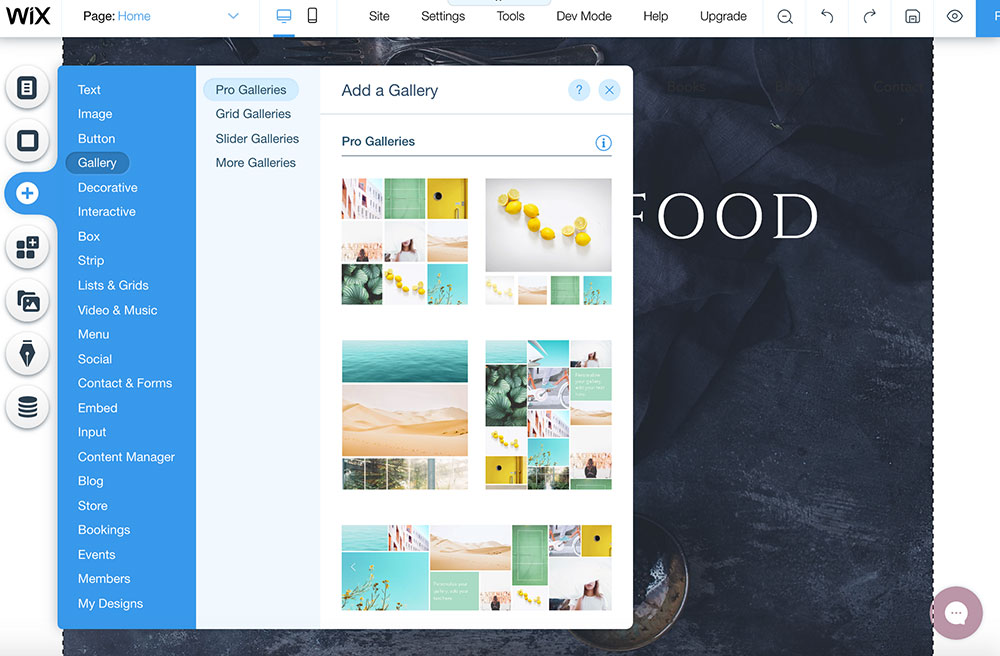 The Wix website builder is an all-in-one service for site building, domain name purchases, and hosting. They offer Wix ADI, Wix Editor, and Wix Velo to create your site.
Wix ADI customizes a website based on your responses to their questions. It's perfect for beginners and anyone who wants their website up and running quickly.
The Editor UI provides hundreds of templates with drag-and-drop elements. Its flexible features cover various elements from parallax to video backdrops.
Velo has more advanced functionality better suited to people with code or web design experience.
Other website enhancing features are password-protected pages, stock photos, and social media marketing.
BeBuilder
BeBuilder shines with its customizable and easy-to-use features. Instead of worrying about endless design or content decisions, this builder makes those decisions for you. Afterward, you can add content and customize the sections further.
You'll have complete control over your site's appearance.
The intuitive toolbars display all the settings for the element you're working on at the moment. That eliminates searching for editing options because they're all visible.
You will probably need to update your website occasionally. The backup and autosave tools track and control past and current versions of your web pages.
The Live Builder feature includes several tools to save your work in addition to the standard update or publish tools.
The robust options and endless possibilities allow you to design the perfect website for your business.
BeBuilder was designed with responsiveness in mind, ensuring your site looks great on mobile devices.
Other tools enable custom logos on mobile devices, Pinch to Zoom, and small screen considerations.
Web design professionals and programmers can access the built-in code mirror, removing CSS or JS errors for clean code.
6. How is customer support and documentation?
Even the most beginner-friendly website builders can be confusing, creating the need for help. Which support style is most helpful?
Elementor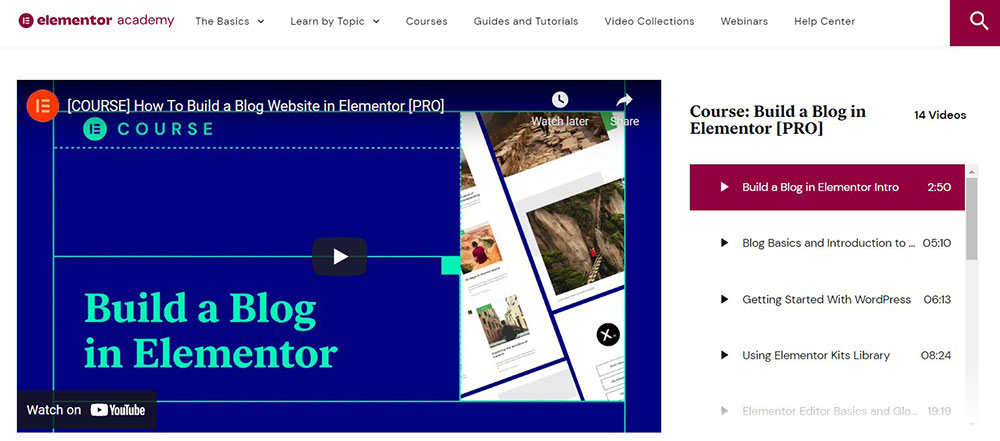 Elementor's comprehensive documentation library covers nearly every question a website builder could ask. Their blog contains tutorials and how-to guides, and the Elementor YouTube channel posts walkthroughs for more advanced site features.
But if their videos and articles don't answer your questions, you can contact their support desk. These professionals provide personalized support for your business.
They regularly update their documentation section, and the support team is always available to help.
Wix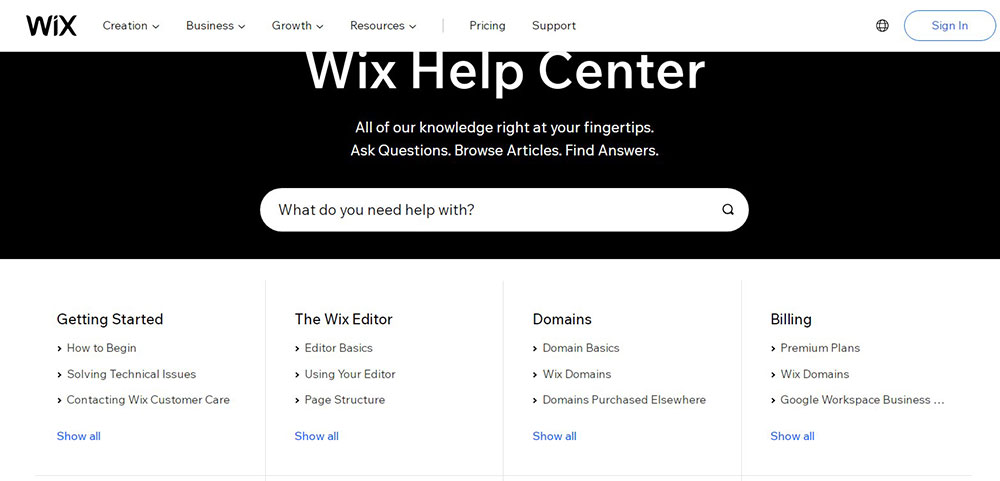 The Wix knowledge center leaves a bit to be desired, but their support service more than makes up for it. If you need help, you can reach out via social media, email, phone, or the on-page editor.
A comprehensive documentation library covers extensive topics, including analytics, SEO tools, and site performance. And the library answers most questions Wix users have.
BeBuilder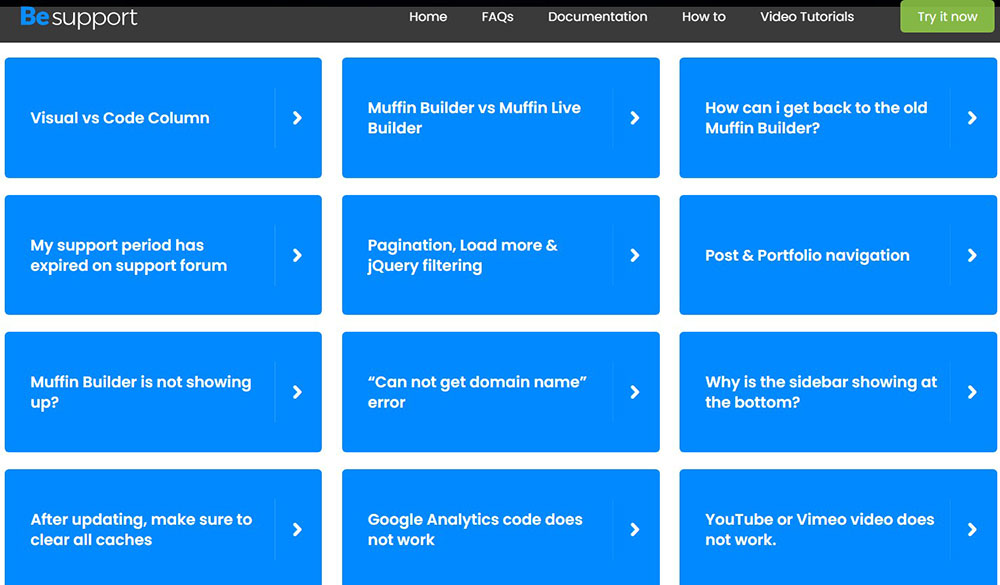 BeBuilder's themes come with many features, and their documentation library covers each one. Subjects include how to optimize the features and step-by-step implementation instructions.
A growing video tutorial collection walks users through the website setup process.
The forum gives users who need further support a place to ask questions. Theme creators, experienced users, and in-house experts answer your challenges quickly.
7. How much do they cost?
As crucial as comparing features is, the price tag is often the determining factor.
Elementor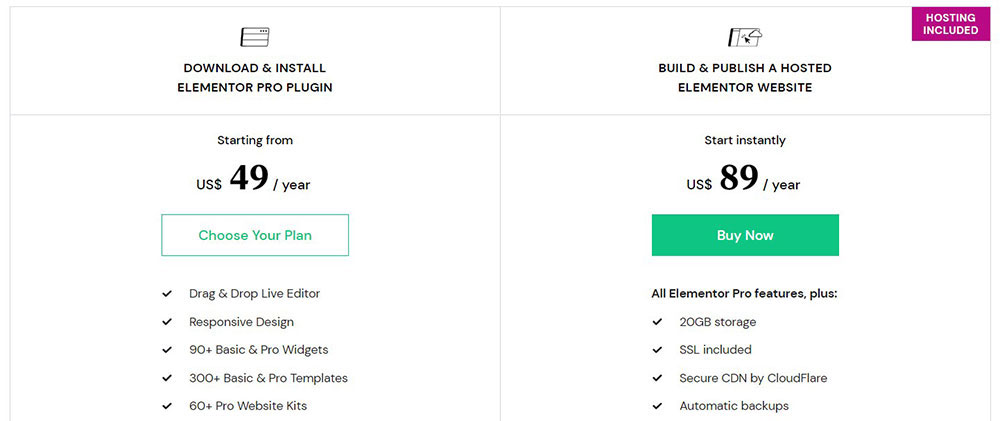 Elementor offers a free and a pro version. The free account is limited, so it's best to purchase, at the least, the basic subscription to avoid those limitations.
However, the free version includes over 30 templates and 40 basic widgets.
Their premium plans begin at $49 annually for a single site. On the other hand, their agency plans go up to $999 annually for 1,000 sites.
Wix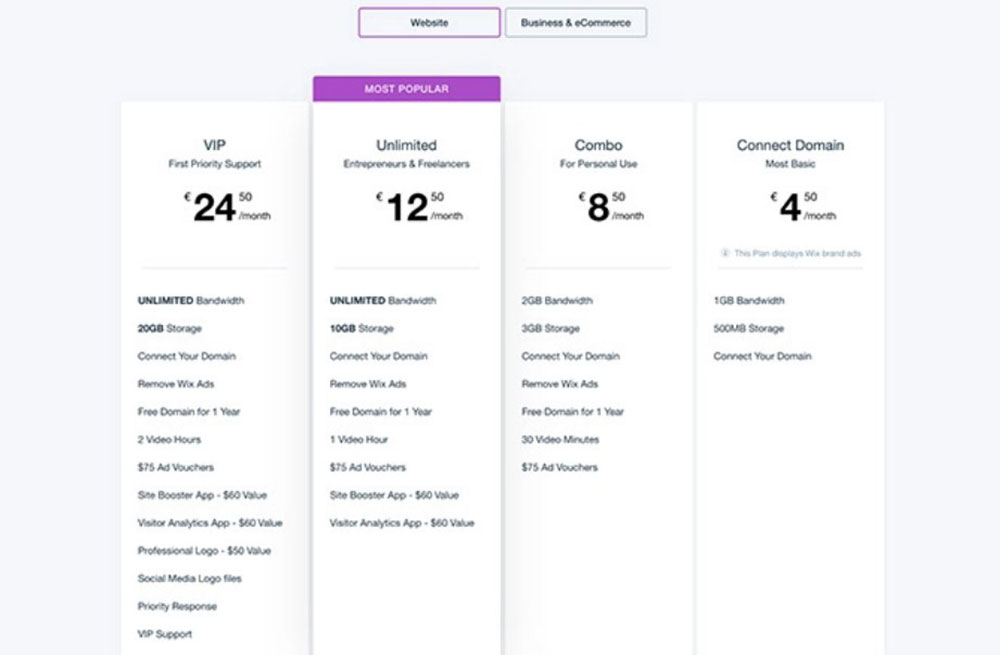 Wix has four basic plans:
Connect Domain - $4.50 monthly (free SSL certificate and custom domain)
Combo - $8.50 monthly (removes ad banners, free hosting, free domain name connection)
Unlimited - $12.50 monthly (10GB storage space, unlimited bandwidth)
VIP - $24.50 monthly (priority customer care, five video hours, professional logo)
BeBuilder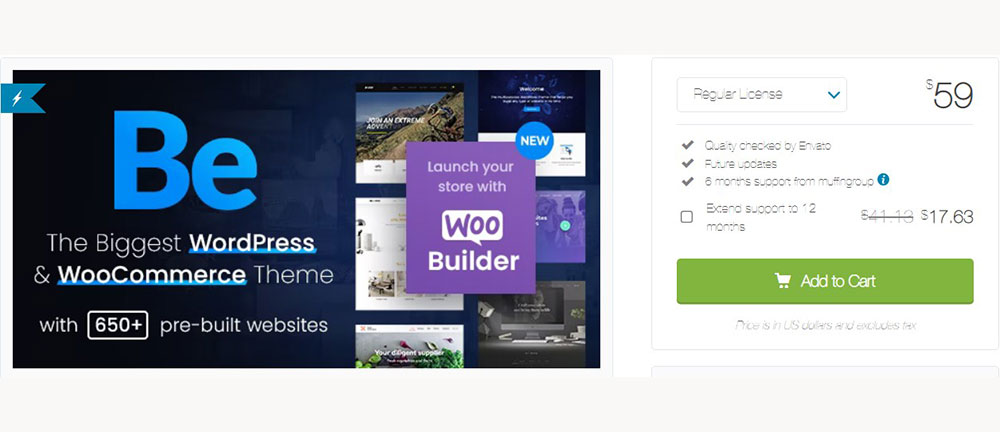 BeBuilder provides access to all their templates and pre-built sections for a $59 one-time fee.
The WordPress site provides Muffin Live Builder in its package. It includes the backend website builder, Muffin Builder 3, Muffin Woo Builder (eCommerce), and over 600 pre-built websites.
BeBuilder's one-time fee of $59, compared with Elementor and Wix, provides the best value.
FAQ about the Elementor vs Wix vs BeBuilder the best for a business website
What is the best website builder for a business website?
The best website builder for a business site will depend on the business's needs and goals. People choose Elementor, Wix, and BeBuilder because they are easy to use and have good design tools.
Before you choose the best website builder for your business, you should think about things like customization options, e-commerce features, SEO tools, and pricing.
What are the main differences between Elementor, Wix, and BeBuilder?
Elementor, Wix, and BeBuilder are all website builders, but they are different in how they can be designed, how they can be changed, and how much they cost. Elementor is a plugin for WordPress that has a drag-and-drop interface and a lot of design choices.
Wix is a cloud-based website builder with e-commerce tools and an easy-to-use interface. BeBuilder is a website builder that lives in the cloud and puts a lot of emphasis on customization and responsive design.
Which website builder offers the most design flexibility?
Out of the three website builders, Elementor gives you the most design options. It has a lot of design elements, templates, and ways to change things that let users make complex layouts and designs that are all their own. Wix and BeBuilder also let you change how a design looks, but Elementor is better in this area.
Which website builder offers the best e-commerce features?
Wix is the best website builder if you want to sell things online. It has an easy-to-use interface and a wide range of e-commerce tools, such as tools for managing inventory, taking payments, and sending packages. Elementor and BeBuilder also have some e-commerce features, but not as many as Wix.
Which website builder is the easiest to use?
The drag-and-drop interface and user-friendly design of Wix make it the easiest website builder to use. It has a lot of templates and ways to change them, which makes it easy for people of all skill levels to make websites that look professional.
Elementor and BeBuilder also have easy-to-use interfaces, but you might need to know more about website design to use them.
Which website builder has the best SEO features?
All three website builders have SEO features that let users make their websites better for search engines.
Wix has SEO tools built in and a helpful guide for beginners, while Elementor has an SEO plugin that lets you do advanced optimization. BeBuilder also has some basic SEO tools for optimizing the page itself.
Are there any compatibility issues with these website builders and other third-party tools?
Any website builder can have trouble with third-party tools and plugins that don't work well together. Elementor, Wix, and BeBuilder, on the other hand, all have active support communities and are constantly updated to make sure they work with other tools.
Before making big changes to the way your website looks, you should always test compatibility.
Which website builder offers the best value for money?
The best value for money depends on what a business wants and how much money it has. Elementor and BeBuilder have low-cost plans with a lot of ways to customize, while Wix has a free plan with limited features and low-cost paid plans.
Before making a choice, you should think about how each website builder will work in the long run and if it can grow with your business.
Can these website builders be used to create a mobile-responsive website?
Yes, all three website builders have mobile-responsive design features that make sure the site works well on all devices and screen sizes.
They also have editing options for mobile that let users see how the mobile version of their website looks and make changes to it.
Which website builder has the best customer support and resources?
Out of the three website builders, Wix has the best customer service and the most tools. It has a support center with forums, guides, and tutorials that can help you. Wix also has customer service available by phone, email, and live chat around the clock.
Elementor and BeBuilder also have support resources and community forums, but they may not be as complete as Wix's. But BeBuilder offers personalized customer support and help, while Elementor has a large and active online community that offers support and resources.
The Verdict
After comparing these three website builders, which ones fit your needs best?
You know your vision and your business's needs best, so only you can decide which builder will work best for you.
If you want to create a clean site, Elementor is a great fit. If you're looking for more themes or displays, Wix works well.
On the other hand, web developers flock to BeBuilder for its powerful page builder tools and over 200 embedded shortcodes.
For the best value for your money, BeBuilder is the clear winner. It costs less, delivers more, and provides greater control over your website. Thus, choosing BeBuilder lets your website grow along with your business.
If you enjoyed reading this article on Elementor vs. Wix, you should check out this one about
using a WooCommerce page builder or this one with Elementor alternatives.
We also wrote about a few product comparisons like Elementor vs Beaver Builder, Elementor vs Divi, Elementor vs WPBakery, https://muffingroup.com/blog/visual-composer-vs-beaver-builder-vs-bebuilder/, Elementor vs Oxygen, or Elementor vs Gutenberg.