Teacher Website Examples to Inspire Designers
April 19, 2023

How to Uninstall WordPress And Reinstall It Safely
April 19, 2023
Do you want to build a website that impresses your visitors and boosts traffic without requiring code? That's where drag-and-drop page builders come in. Visual Composer, Beaver Builder, and BeBuilder are the top three. But which one is right for you? How do they compare? Let's look at Visual Composer vs. Beaver Builder vs. BeBuilder.
Visual Composer
The well-known Visual Composer page builder was one of the first WordPress plugins to provide a drag-and-drop editor. It is now the WPBakery page builder, though many people still use the original name. However, the full-featured Visual Composer website builder still does a great job on web pages.
Recently, developers created a new website builder they wanted to call Visual Composer. But unforeseen contractual obligations forced them to change the original page builder's name to WPBakery. Oh, the confusion! Visual Composer is now the website builder (and page builder), and WPBakery is the page builder.
Confusion out of the way, we will examine how Visual Composer (not WPBakery) stacks up against Beaver Builder and BeBuilder.
The Beaver Builder Plugin
With this page builder plugin's pre-made layouts, you can create attractive web pages. Website builders prize Beaver Builder for several extra features.
The Pro and Agency versions include the Beaver Builder theme. You can customize default fonts, color combinations, and corresponding buttons. And, of course, this page builder fully integrates with the Beaver Builder theme.
The Beaver Builder page builder also integrates well with other themes. It supports shortcodes and integrations, like other handy widget-based plugins. You can easily incorporate forms, tables, and galleries into your design.
BeBuilder
BeTheme's all-in-one WordPress toolkit includes the high-speed and straightforward BeBuilder website builder.
Over 240,000 satisfied customers use ThemeForest's popular website builder, BeTheme. And it provides 650+ ready-made websites in every possible style. Also, any industry can benefit from this versatile builder.
Professionals and novices alike enjoy the simple yet powerful Muffin Builder page builder. If you give it a shot, you'll be a fan for life! You can install one of more than fifty website styles in the package with a single click. And you can access all current and future demos with just one license.
Structure
Visual Composer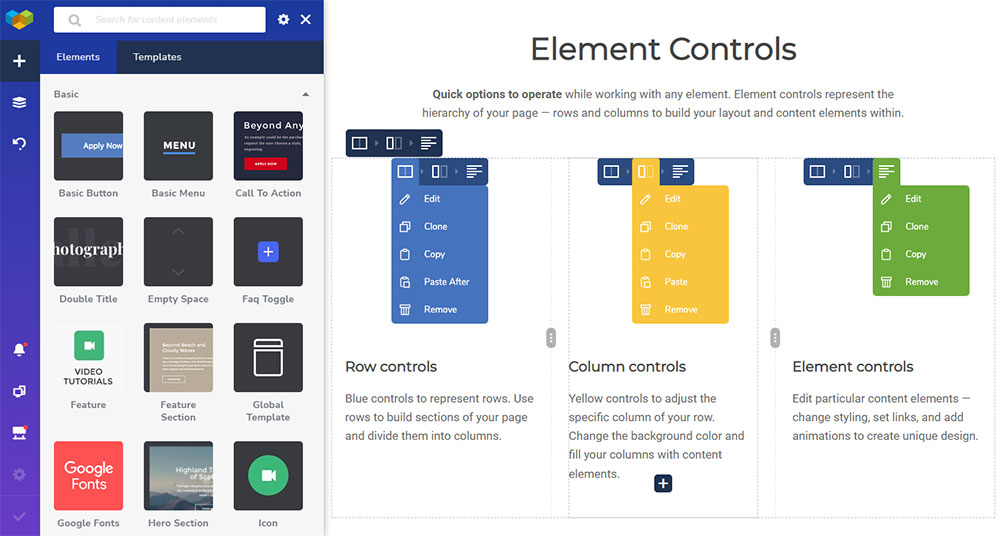 You can add, remove, and resize columns to customize the pre-made column layouts. Once you've selected a layout, just move and drop the desired elements into your columns.
You can edit pages in real-time with the front-end editor. And the backend editor enables you to make changes.
The left-hand menu has all the controls you need to add, edit, and style. You can move page elements, page-wide layout settings, and responsive editing choices to the top of the bar.
Beaver Builder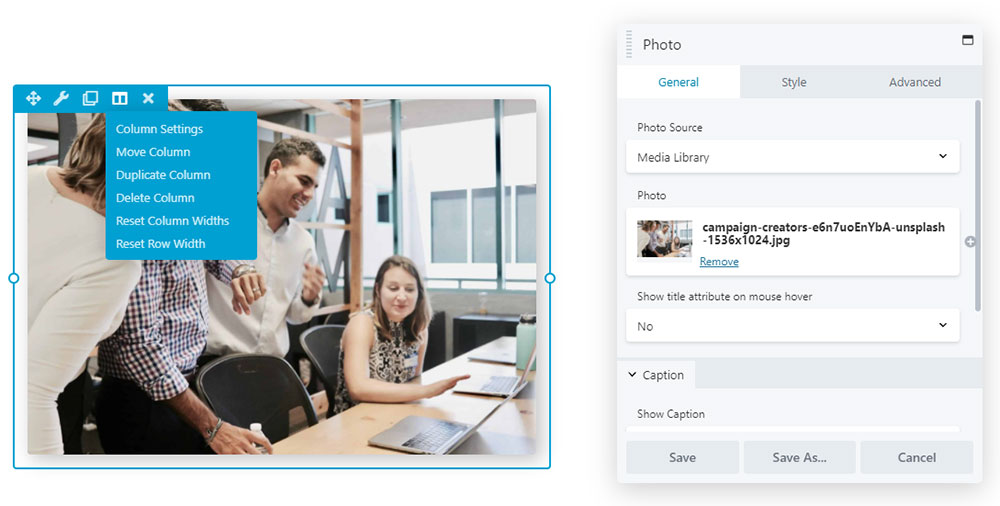 Anyone can use Beaver Builder's user-friendly interface to set up a website in minutes. And if you've used Gutenberg's editor, you'll have no trouble picking up Beaver Builder. You can drag page elements with the panel's drag-and-drop function. It's that easy! Once you've got the basics, you can create your pages.
First, choose the Beaver Builder editor's layout template you want. The layout template will save you time and give you flexibility. Then you can rearrange the rows and columns and adjust padding and margins with drag handles.
BeBuilder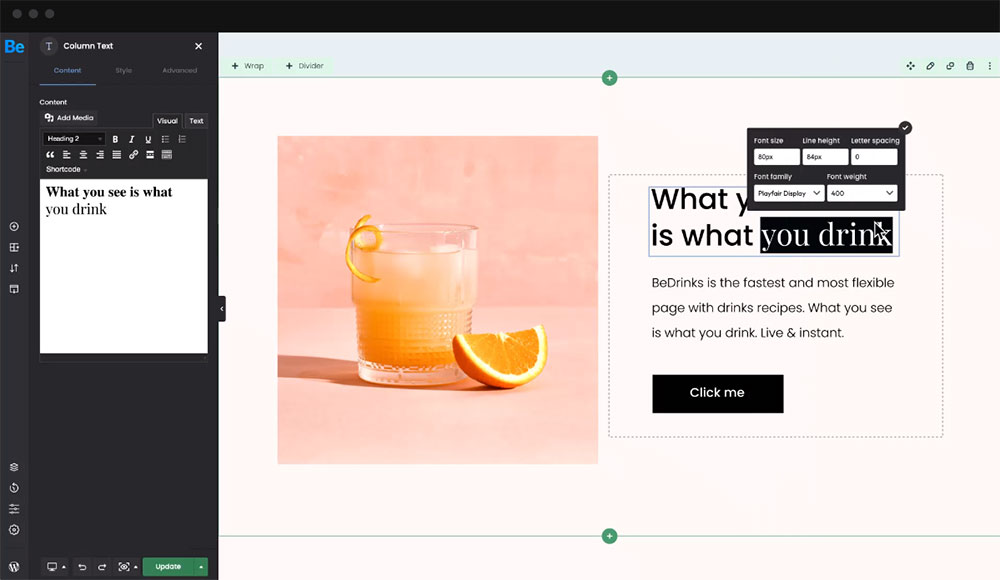 BeBuilder users don't worry about designing a section, thanks to the constantly expanding library of pre-defined sections.
Prebuilt sections
You can choose a pre-made section in the Muffin Builder menu on the right by clicking on the icon.
Locate the block you need
Many different blocks are grouped according to their objective. To add a new part to the page, click the + (Add) button on the block you want to use, and you're done. It's as easy as that!
Elements and Modules
Visual Composer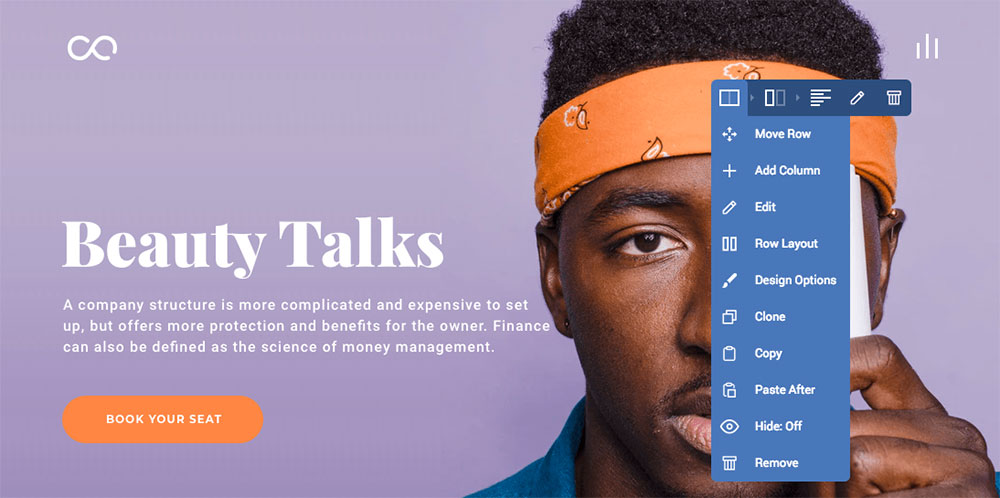 Visual Composer enables you to choose from various types of content, allowing you to customize your page.
You can add text and images in different ways. Add features, like maps, post grids, and icons, one by one. Also, you can easily install WordPress widgets to add more features to your website.
Adding content elements and arranging them logically is effortless. You can use the drag-and-drop function to move rows and other elements for your unique structure.
The Beaver Builder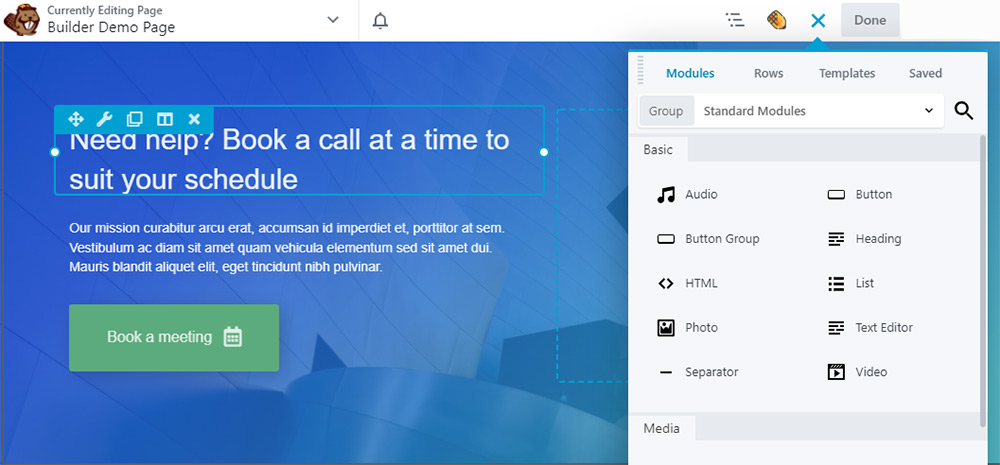 This well-rounded builder includes thirty pieces of content, including tabs and media players. The pre-made layouts include all the textual modules and media types you'll need.
The Actions section contains various tools, such as forms and e-mail sign-ups. The Info category displays your company's infographics. You can change the post's category and appearance and solve issues during the page building process.
BeBuilder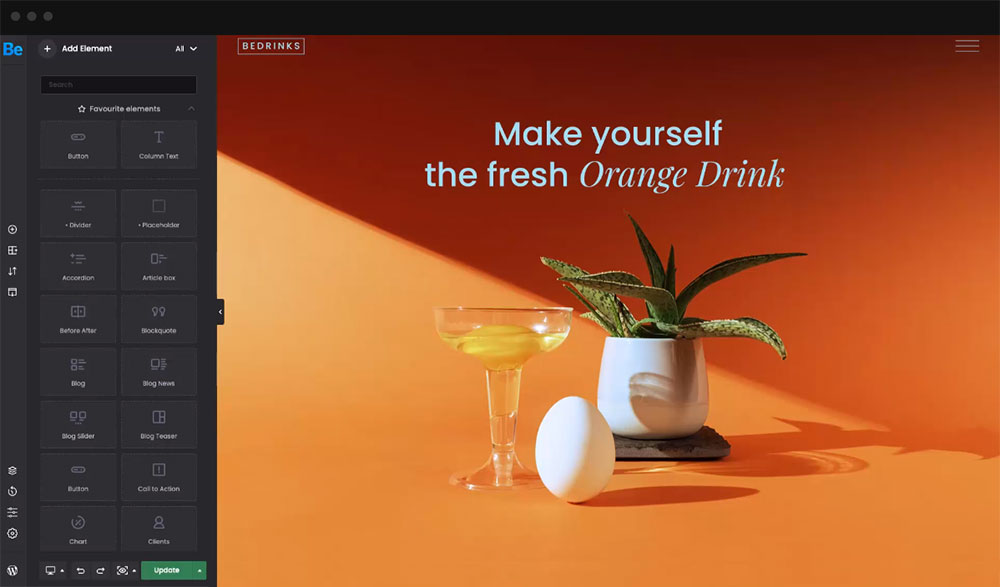 BeBuilder has more than 80 components
The variety of elements makes customization trouble-free. Developers have listened to their customers' suggestions and constantly update the product catalog. You can decide what you want to add, change, or move.
Categories that make the process even more enjoyable:
Typography field
Seventeen box items
Seven block components
Fifteen elements
Sixteen loop products
Six additional items
This excellent builder includes thousands of icons with a time-saving icon finder. While you can choose from various icon sets, Font Awesome is the default.
Templates
Visual Composer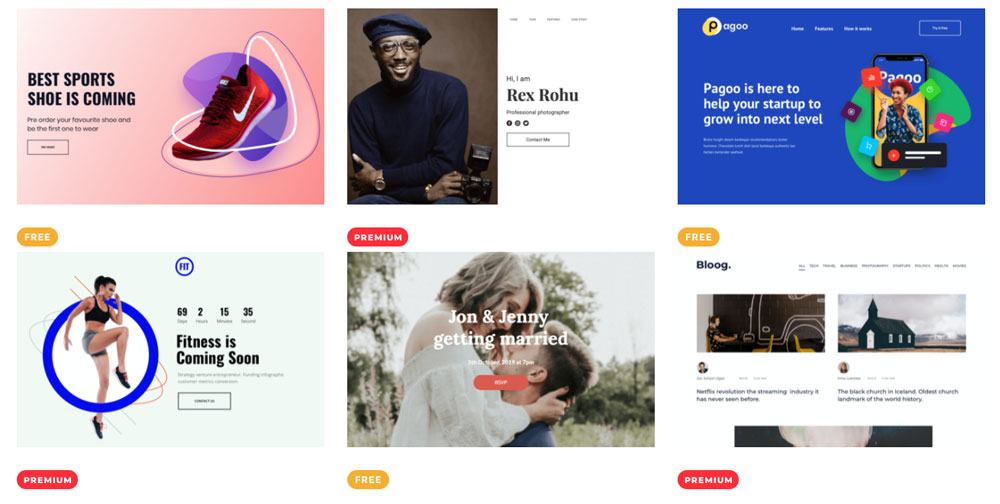 In the WordPress repository, you'll find a wide variety of web page templates, including ones for FAQs, help, services, and about pages. Besides the page and section templates, there are header and footer templates. As a result, you have complete freedom to customize the pages.
In Visual Composer, the content templates aren't organized into sections as they should be. But, you can search for the type of template you're looking for.
You can use a template to save your layouts and reuse them across different website pages.
Beaver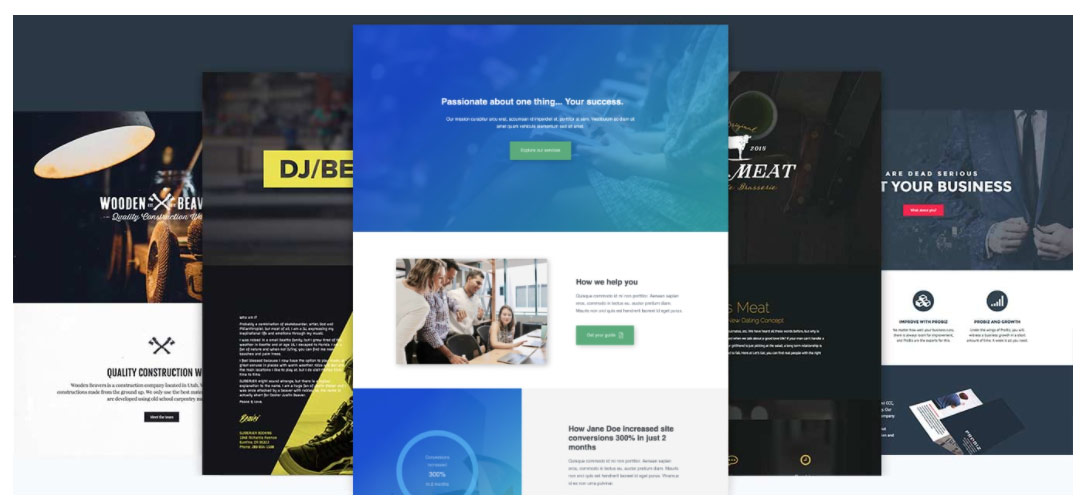 The Beaver Themer add-on connects to your WordPress themes' templates. Additionally, it can link text fields to other site areas and picture fields to your post's featured image.
The page builder displays layout templates. For example, you can choose one of the home templates for your website's home page.
The two types of templates are full-page and content modules. You can create a fully-designed page before adding content, then align it as you see fit. The content templates enable you to add your unique content to the prebuilt rows and columns.
BeBuilder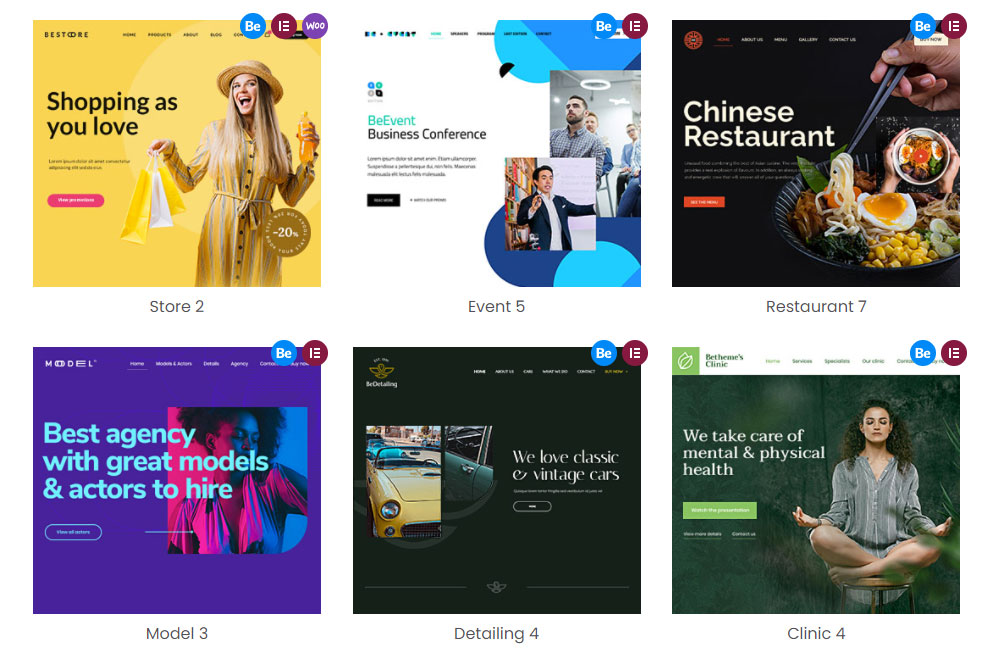 Many pre-configured layouts
For blog, portfolio, and shop pages, you have various built-in layouts from which to choose. You can also request personalized pixel-perfect design services.
Intuitive toolbar layout
You won't need to switch tabs to use styles, advanced, or settings. The toolbar makes working and editing straightforward.
You can rapidly import any of the 650+ WordPress landing page and website layouts by copying and pasting the URL into the Import section.
Drag-and-drop components
All prebuilt sections enjoy a highly developed filter option. They seamlessly integrate with existing content for seamless changes when necessary.
Personalization
Visual Composer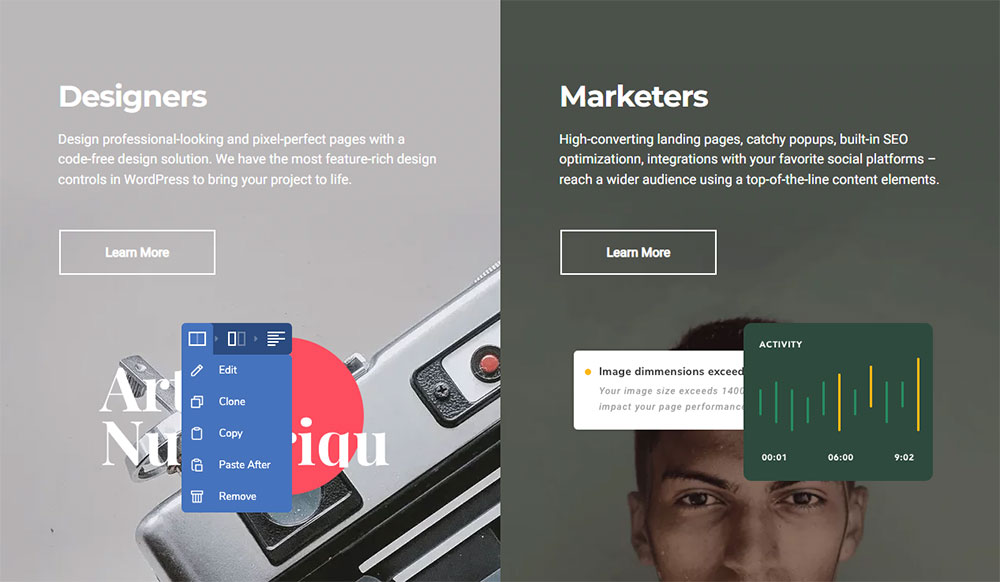 Visual Composer's WordPress interface doesn't seem to integrate well. So, making a WordPress page may feel more like a third-party tool than a core part of the site. So, for customization, Visual Composer is the most challenging of the three page builder plugins.
Changing the style options requires altering the elements. But you can modify an element's font, color, shape, alignment, and unique ID attributes. And box shadows are in the settings menu.
In the general settings and design options sections, you can choose the color palette, margins, column spacing, and mobile screen width.
The Beaver Builder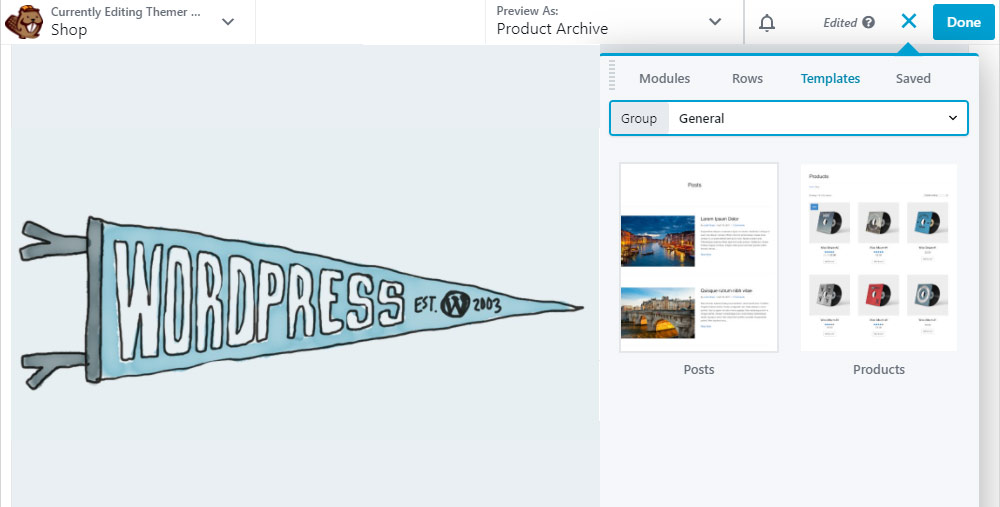 The styling options in Beaver Builder vary by module. If your module contains text, you can change the font, font size, font-weight, color, spacing, and a text-shadow.
You can change the background color, overlays, padding, borders, and box shadows depending on the module you choose. Number Counter's unique style option enables you to select the color of each filled and empty section.
This WordPress plugin's advanced features let you make and customize CSS IDs and classes.
BeBuilder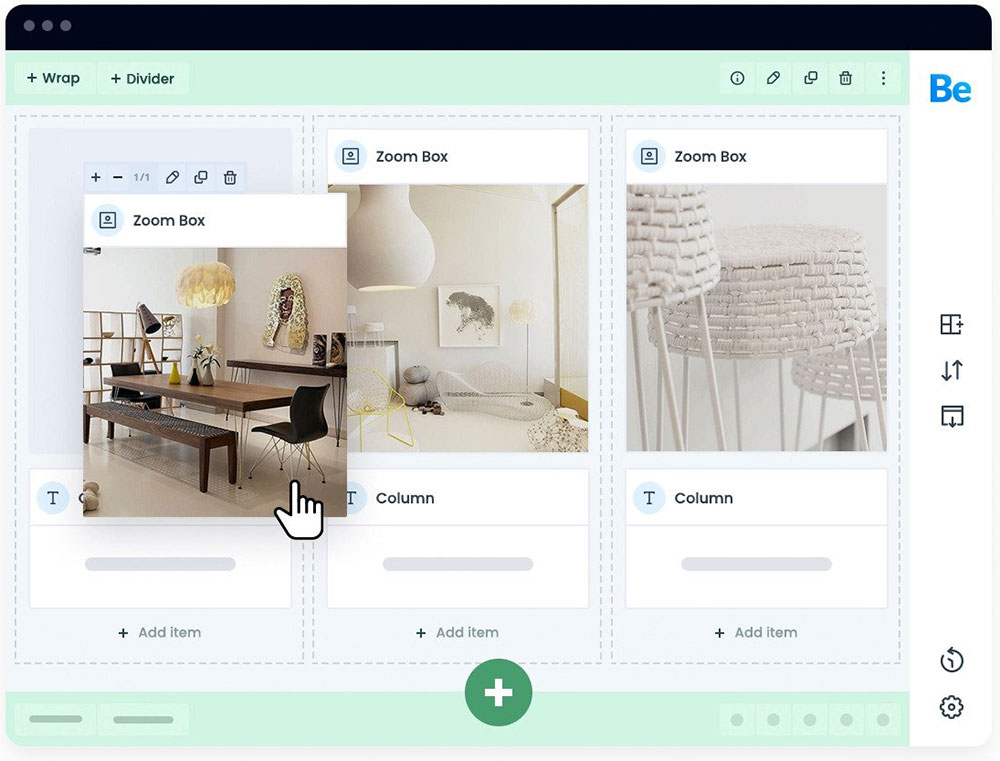 Versatile elements
The BeTheme package, included with the purchase of Live Builder, contains a massive library of 600+ prebuilt websites.
You no longer have to switch between tabs to see the changes you've made in real-time.
Customize logos, buttons, sliders, and more in a single place
Define header styles to add additional icons to the header and sub-headers
A vast array of menu and action bar configurations
Define global sidebars or set them up individually
Customize image sizes for blogs, portfolios, and online stores
Customize comments, 404 error, Under Construction page, copyright, call to action, and more
You can customize everything, from colors and fonts to posts, pages, and sidebars. The numerous options and the superb organization will amaze you. Also, BeTheme customers enjoy the BeCustom add-on, making it effortless to rebrand the entire Muffin Options panel.
Advantages
Visual Composer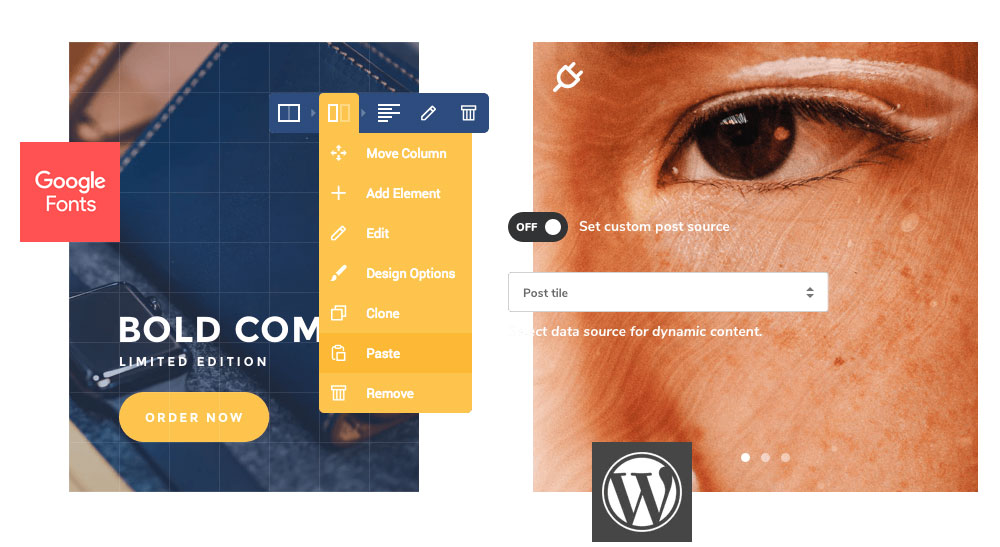 Customizing third-party themes is one advantage Visual Composer website builder has over WPBakery.
You don't have to write a single line of code to design and launch your website. Also, the front-end editor shows you how your content appears to visitors, allowing you to publish valuable content.
Visual Composer's well-documented help system boasts many articles and instructional videos. These tutorials explain in detail the Visual Composer plugin's features for WordPress. So you can rest easy knowing you'll effortlessly learn how to use them.
The Beaver Builder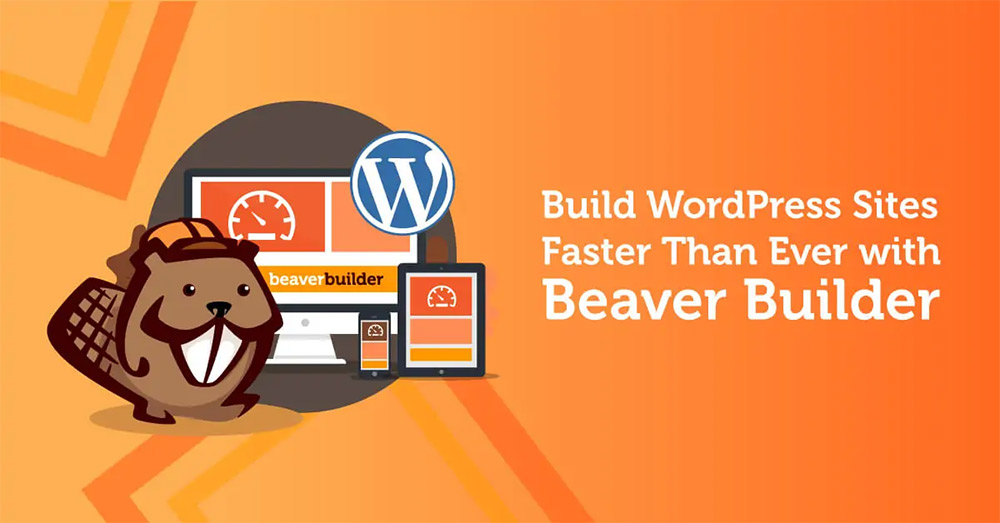 Developers and agencies appreciate Beaver Builder's white label option. You can change the builder's name and brand it as your plugin. And providing your clients with a custom builder will increase your revenue.
Pages made with the Beaver Builder plugin won't change even if the plugin is off. This is an excellent tool for adding pages to your client's website. Then after creating the pages, you can turn off the plugin without changing the data. Even better, Beaver Builder's Agency plan lets you use it on as many websites as you want.
BeBuilder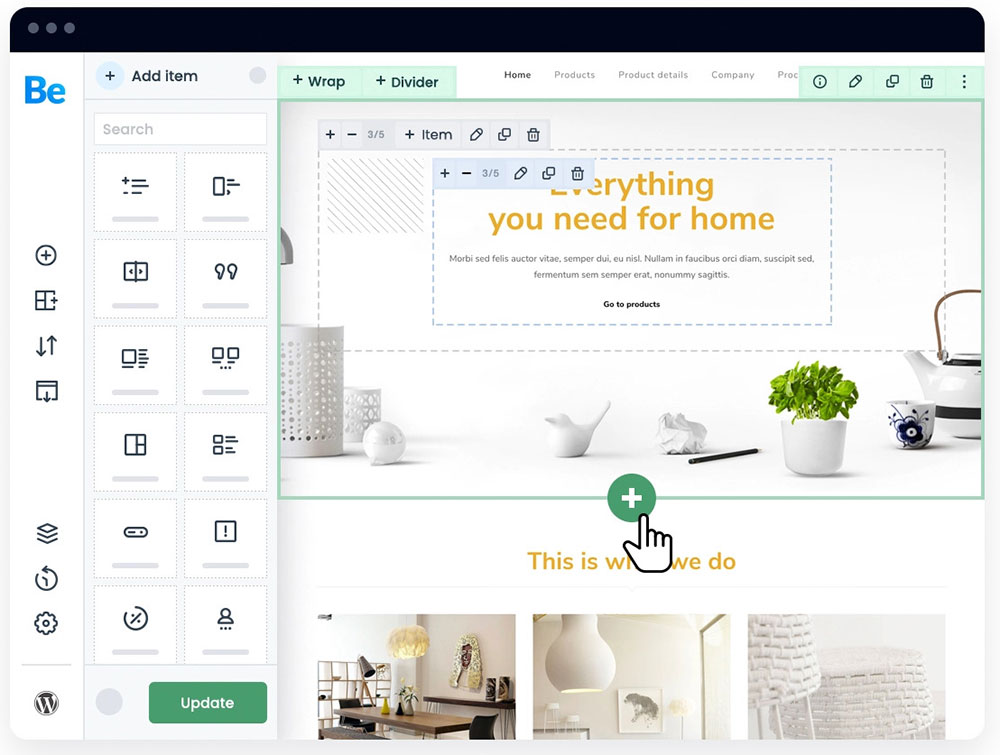 BeBuilder understands the frustration of forgetting to save your work. Autosave and Revisions cut that frustration.
It includes the most advanced backup system with autosave and revisions features. These features allow you to save changes and revert to a previous version if necessary.
For seamless creation, copy and paste the URL of any page from our 600+ prebuilt website layouts. Then you can import your chosen layout into your website in moments!
With its lightning-fast user interface, this program builds websites that load in seconds.
BeBuilder has a well-organized toolbar. So you can edit and save changes easily because the settings and styles are all in the same tab.
The intuitive user interface simplifies everything, eliminating the challenging learning curve.
Pricing
Visual Composer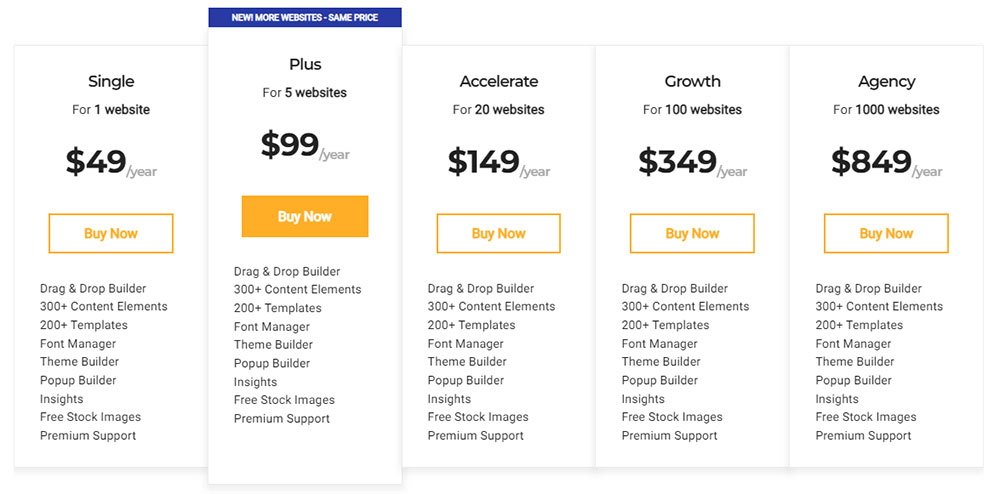 Visual Composer offers five premium plans. The only difference is the number of permitted websites.
One website starts at $49 per year
Five websites cost $99 per year
Twenty websites are $149 per year
One hundred websites are $349 per year
One thousand websites cost $849 per year
The Beaver Builder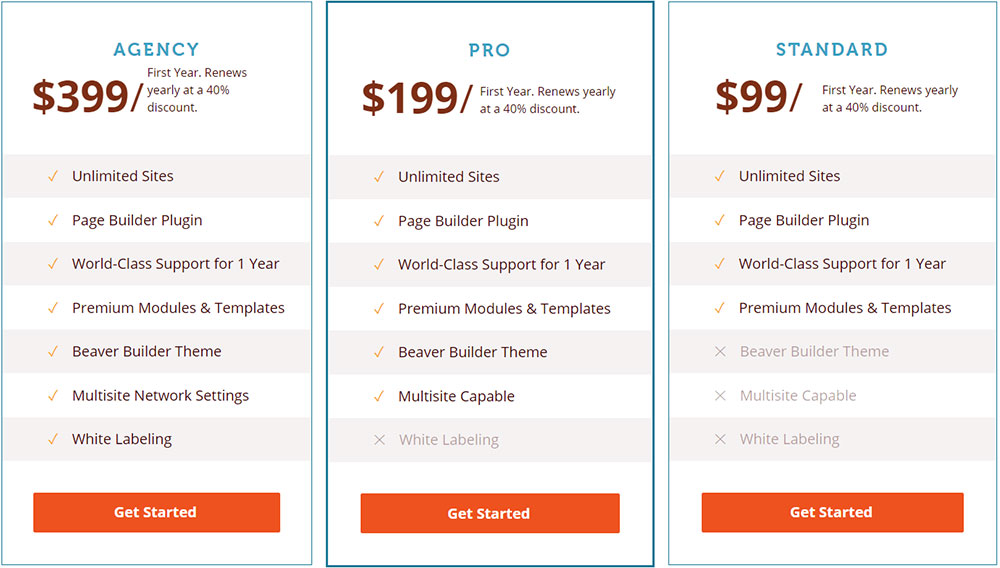 Beaver Builder offers three premium plans:
Unlimited site licenses, premium modules and templates, and one year of support and updates come with the standard $99 package.
Add the Beaver Builder theme, multisite support, and other perks for $199.
Add to the above multisite network settings and white labeling for $399.
You get a 40% discount on the following year if you sign up for auto-renewal. The plans are a little pricey. You'll need the Pro package if you want multisite compatibility and the Beaver Builder Theme. Finally, you'll need the Agency package if you want the white label option.
BeBuilder

You get Muffin Woo Builder, Muffin Builder 3 (our backend builder), and 600+ prebuilt WordPress websites for a one-time purchase of $59. And unlimited prebuilt sections and templates are available at no extra cost.
Is this a yearly or monthly membership? Not at all! A $59 one-time fee is all that is required to access all content.
FAQs about Visual Composer vs Beaver Builder vs BeBuilder
1. What is the difference between Visual Composer, Beaver Builder, and BeBuilder?
Popular WordPress page builder plugins include Visual Composer, Beaver Builder, and BeBuilder. A full website builder with many features, such as a drag-and-drop user interface, templates, and sophisticated customization possibilities, is called Visual Composer.
With a streamlined user interface and a selection of pre-designed templates, Beaver Builder places a strong emphasis on usability and simplicity. BeBuilder, a more recent page builder, focuses on affordability while yet providing capabilities similar to Beaver Builder.
2. Which one is the easiest to use for beginners, Visual Composer or Beaver Builder?
Beaver Builder is typically regarded as the most user-friendly page builder for beginners. Without any prior coding knowledge, it is simple to design websites that seem professional using its drag-and-drop interface. On the other side, Visual Composer has a steeper learning curve but provides more sophisticated customization choices for seasoned designers.
3. Can you customize the design of a website using all three page builders?
Yes, all three page builders provide a variety of customization options, such as the capacity to design unique layouts, incorporate unique CSS, and utilize pre-made templates. All three page builders may be used to construct distinctive and expert-looking websites, but Visual Composer and Beaver Builder provide more sophisticated customization possibilities than BeBuilder.
4. Is there a significant difference in the pricing of Visual Composer, Beaver Builder, and BeBuilder?
Yes, the three page builders' prices vary significantly from one another. Depending on the functionality and amount of websites you need to utilize the plugin on, Visual Composer provides multiple pricing tiers, ranging from $49 to $349 per year.
Beaver Builder has a similar pricing structure, with annual prices ranging from $99 to $399. The least expensive choice is BeBuilder, which requires a single payment of $59 for a lifetime subscription.
5. Which page builder offers the best templates and pre-designed layouts?
With more than 500 well created templates available, Visual Composer has the largest selection of templates and pre-made layouts.
Although there are fewer templates available with Beaver Builder, they are all of high quality and are simple to modify. While BeBuilder also provides a variety of templates, it has a smaller selection than Beaver Builder or Visual Composer.
6. Can you use Visual Composer, Beaver Builder, or BeBuilder with any WordPress theme?
All three page builders can, in general, be used with most WordPress themes. However, some themes might not work properly without additional configuration or might not be compatible with all page builders.
It's wise to confirm compatibility with your chosen theme by consulting the page builder's manual or support staff.
7. Do all three page builders offer drag-and-drop functionality for easy website design?
Yes, the drag-and-drop functionality is available in all three page builders for simple website design. This makes it simple to add content and build unique layouts for your website without having any coding skills. BeBuilder is inferior to Visual Composer and Beaver Builder in terms of drag-and-drop capabilities, but all three page builders are simple to use and straightforward.
8. Which page builder offers the most advanced customization options for experienced designers?
Of the three page builders, Visual Composer offers the most sophisticated customization options thanks to its extensive design options and sophisticated functionality. Because of this, it is a popular option for skilled designers who want total control over the appearance of their website. Although Beaver Builder is more streamlined and user-friendly, it also offers a variety of customization options.
9. Is there a learning curve for using Visual Composer, Beaver Builder, or BeBuilder, and which one is the easiest to learn?
Although there is a learning curve for each of the three page builders, Beaver Builder is typically regarded as being the most straightforward for beginners to learn. Without any prior coding knowledge, it is simple to design websites that seem professional using its drag-and-drop interface. Though they have a more difficult learning curve, Visual Composer and BeBuilder provide advanced customization options and functionality for seasoned designers.
10. Are there any limitations or drawbacks to using Visual Composer, Beaver Builder, or BeBuilder?
Utilizing Visual Composer, Beaver Builder, or BeBuilder has its limitations and disadvantages, just like using any other page builder.
One drawback is that these page builders could produce bloated code, which can slow down and degrade the performance of websites. Another negative is that some of the more sophisticated customization choices and features could need for extra plugins or settings, which might make your website more complicated.
Using a page builder may also restrict your future capacity to customize or make specific design modifications. Before deciding whether a page builder is the best tool for your website, it's critical to weigh the benefits and drawbacks of using one.
Conclusion on Visual Composer vs. Beaver Builder vs. BeBuilder
Comparing Visual Composer vs. Beaver Builder vs. BeBuilder reveals they're all professional page builders that create a great website. But BeBuilder has the advantage.
BeBuilder is part of the BeTheme family, one of the most popular WordPress themes in the world. It has already sold more than 234,000 licenses. The team is fully committed to making this the best visual builder you've used, so you can rest easy knowing that you will get real value.
If you enjoyed reading this article on Visual composer vs beaver builder, you should check out this one about Elementor vs Beaver Builder.
We also wrote about a few related subjects like Elementor vs. WPBakery vs. BeBuilder, Elementor alternatives,
hotel website design,
the best looking tourism websites,
best corporate websites, cool looking personal trainer websites,
top notch musician websites,
church websites,
the most impressive luxury websites, cafe websites and
impressive animated websites.